SHARE:
Weather Stations on the Quad
A new reaserch project underway on the effect of tree cover

3/22/2010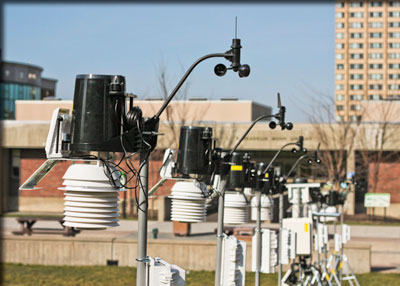 Weather stations that were lined up across the ESF Quad in mid-March are being prepared for use in a study that will send College and U.S. Forest Service scientists out to research the effect of tree cover on microclimates, especially temperature.
Sometime this spring, the stations will be set up at locations around the city of Syracuse, where they will record weather data over the next year.
"Temperature is the main factor," said meteorologist Gordon Heisler, who works out of the Forest Service office on the ESF campus. "It's the most important because of its effect on human comfort, ozone levels and the temperature in buildings."
Syracuse is part of a network of locations that make up the Urban Long-Term Research Area program. The Forest Service and National Science Foundation are partners in the project.
Recent ESF News
News Archives
Communications & Marketing
SUNY-ESF
122 Bray Hall
1 Forestry Drive
Syracuse, NY 13210
315-470-6644