SHARE:
All That Jazz
ESF student is principal saxophonist in Schiff Jazz Ensemble

5/18/2015
Copyright © All Rights Reserved by copyright holder
"I like that jazz music is a spontaneous expression that exercises a different portion of the mind not usually a part of a scientific curriculum," said Andrew Stillman.
At ESF, Stillman is a senior environmental biology major. At Syracuse University, he is the principal saxophonist in the Morton B. Schiff Jazz Ensemble. Stillman has been a member of the by-audition ensemble, the top jazz band at the university, since his freshman year.
Stillman is the first ESF student to hold a section leader position in the jazz band. "There are a number of music majors and jazz minors at the university so the fact that a science ESF student is there in that chair is surprising," he said.
"The first chair provides leadership to the section from tuning to encouragement and is expected to lead the band in tone during rehearsal," he said. "The first chair also gets the most solos." Stillman was honored with the Morton Schiff Jazz Award during the Setnor School of Music awards ceremony. The award is given to students who exemplify excellence in leadership and jazz performance.
A member of the ESF Honors Program, Stillman completed his honors thesis on avian fire ecology in the Albany Pine Bush. Looking at how the avian community responds to a prescribed burn, he found that prescribed burns have some "pretty marked positive effects in the short term to a number of bird species including the gray catbirds, American robins, chipping sparrows, black-capped chickadees and northern mockingbirds.
Stillman's interest in things avian, lead him to be a founding officer in ESF's Guy A. Baldassarre Birding Club, named for the popular ESF ornithology professor who died in 2012. Stillman is also a teaching assistant for ornithology and a member of The Wildlife Society. He is an active member and leader at the SU Baptist Campus Ministries. Added to that, he completed his bachelor's degree a year early.
"I was able to do it in three years without too much difficulty and accomplish everything I wanted to in my undergrad. I found the opportunity to move on to grad school so I took it," he said.
"It's been a busy three years," he said, but the dedication to his music wasn't a problem.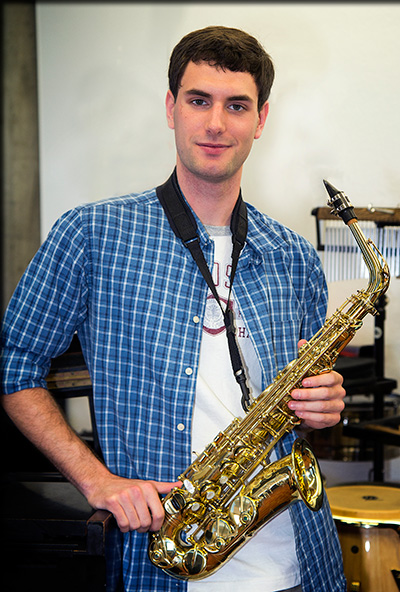 "A lot of people do sports and things like that and this takes the place of that for me," he said. "The jazz band met twice a week and I'd find time to practice throughout the week and on weekends. It's something I see as more relaxing time and artistic time than academic time. So it's a good use of free time on my part."
A combination of science and music was one of the things Stillman wanted out of a university. "I definitely wanted a strong science program and ESF was the perfect school for that. One of the things that really sealed the deal was the knowledge that I could pursue music at Syracuse as well," he said.
The alto sax player credits jazz music for having a positive effect on his academics. "Going to jazz band, I'm able to use a different part of my brain and take part in art as opposed to science and I think it's important to have both of those balanced in a complete education."
That combination has paid off for Stillman. He is the departmental scholar at graduation for the Department of Environmental and Forest Biology. Departmental scholars have the highest grade point average within a department and are recognized for that achievement during commencement activities.
After graduation, Stillman will enter the University of Connecticut to pursue his Ph.D. studying fire ecology of black-backed woodpeckers in the Sierra Nevada. "Four days after graduation I'll fly out and work in conjunction with the U.S. Forest Service."
"The woodpeckers depend on the burned out regions to nest," he explained. "The forest service likes to go in and log the area." Stillman will be looking for a balance between logging and woodpecker habitat. "They need someone to go in there and do occupancy modeling and surveys and see what key areas are needed for the woodpeckers and what areas are free to log in."
"I know as a grad student I'll be very busy but I plan to contact the music program at University of Connecticut and look for small-scale opportunities to perform on occasion," he said.
"That's the really nice thing about jazz music. You don't even really need sheet music and you can still have a paying gig. And I'm fairly flexible with music. I've played a lot of classical, big band and recently found opportunities to play in older classic rock bands."
Being a musician has had another benefit to his future. "In bird work it's often been said that you need better ears than eyes. Much of the time, bird researchers must rely solely on hearing to find and study birds. So having a trained ear through music is definitely an asset for my research and my future career as well."
Recent ESF News
News Archives
Communications & Marketing
SUNY-ESF
122 Bray Hall
1 Forestry Drive
Syracuse, NY 13210
315-470-6644