SHARE:
Meet the Class of 2015
500 graduates received their ESF degrees

5/11/2015
Copyright © All Rights Reserved by copyright holder
Some 500 graduates received their ESF degrees Saturday, May 9, including one whose bubbly enthusiasm as an incoming freshman was captured by a local TV station the day she arrived on campus.
Kimberly Poulin, a wildlife science major from Long Island, was among the first 450 students who lived in ESF's Centennial Hall when it opened in 2011. As she set up her room in front of a watchful reporter, she talked about the advantages offered by ESF's first residence hall. "If we weren't able to do this (live on campus) I don't know how I would have been able to come here," she said. "It makes it easier to meet people from ESF...you know everyone here in Centennial is from ESF so it's pretty cool."
Nearly four years later, Poulin lined up for ESF Commencement with her classmates from the Department of Environmental and Forest Biology and said she had been a "caterpillar" when she arrived on campus.
"From then until now I have grown immensely. I feel like I am a completely different person," she said. "The only way I can say it is I feel like I was a caterpillar then and I am a butterfly now.
"ESF is rigorous but it's completely worth it," Poulin said. "I always said it was an Ivy League school on a budget because the growth and the knowledge you obtain in that school is not like anything else. It's phenomenal."
Poulin heads from ESF to a job as a zookeeper at the Rosamond Gifford Zoo at Burnet Park in Syracuse. She plans to eventually move to California and pursue a master's degree.
***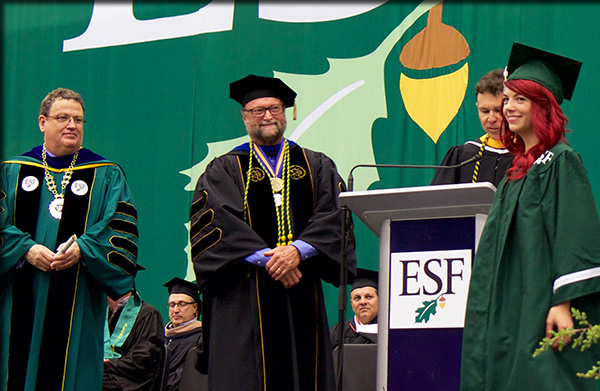 ESF Commencement Sound Bites
President Quentin Wheeler: "Today is your day, your day to bask in the glory of your accomplishments. But before you do so there are others who also deserve recognition and gratitude for the important roles they have played to bring you to this day and this place. I ask the parents, families and friends of the graduating students to please rise so they can be recognized."
Student speaker Teagan Dolan (referencing Sir Isaac Newton, who is credited with saying, "If I have seen further it is by standing on the shoulders of giants."): "But the real reason I hold Newton's quote so dear is because right now, at this moment, we are living it. We are standing on the shoulders of giants. This Class of 2015 is undoubtedly my giant. Because somehow in the last four years between orientation, hiking your first high peak, failing your first Bio exam, attending your first flip night, sledding in the cemetery, seeing a sunrise from the water tower, looking at the stars over Cranberry Lake, jamming to Woodworks, dancing at RedFest, napping in Nifkin, and preparing for walking across this stage you have become my giants. I am standing here today, I am seeing further, only because I am standing on your shoulders. We have each other to thank for our successes, for our memories, and most importantly for the confidence to walk boldly into our largely unknown futures. Because, I am fairly confident that while many of us have no idea what we're doing, ESF has taught us very clearly, what we love."
Dr. Kathleen Dean Moore, recipient of an Honorary Doctoral Degree in Humane Letters: "The everyday heroes of this time will be people of intellectual integrity, educated to viscerally understand the evolutionary, ecological, indigenous story of a world that's finite, resilient, interdependent and astonishingly beautiful. They will be people of radical imagination, reinventing everything, starting over. They will know there has to be a better way.…They will be people who love this raucous, reeling world; who affirm its absolute value and defend it fiercely and faithfully for all time….You have the education and you have the wild roaring imagination. May you summon the moral courage and may it sustain you in the great work ahead."
Wheeler: "Pursuant to the action of the College of Environmental Science and Forestry faculty, the college trustees and the trustees of the State University of New York, I now confer on you the degree appropriate to your course of study. The diploma that you receive is your evidence of our action, Graduates, you may now flip your tassels to the left side. Congratulations. Good luck."
Recent ESF News
News Archives
Communications & Marketing
SUNY-ESF
122 Bray Hall
1 Forestry Drive
Syracuse, NY 13210
315-470-6644