SHARE:
A Return to the Adirondacks
Job in Newcomb brings back memories for AEC staff member

4/1/2010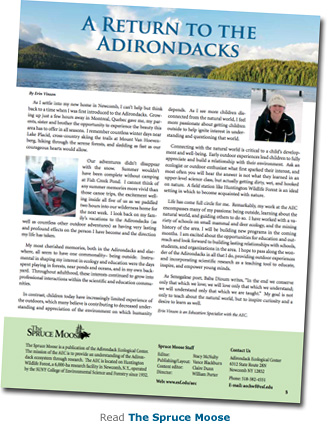 As I settle into my new home in Newcomb, I can't help but think back to a time when I was first introduced to the Adirondacks. Growing up just a few hours away in Montreal, Quebec gave me, my parents, sister and brother the opportunity to experience the beauty this area has to offer in all seasons. I remember countless winter days near Lake Placid, cross-country skiing the trails at Mount Van Hoevenberg, hiking through the serene forests, and sledding as fast as our courageous hearts would allow.
Our adventures didn't disappear with the snow. Summer wouldn't have been complete without camping at Fish Creek Pond. I cannot think of any summer memories more vivid than those canoe trips, the excitement welling inside all five of us as we paddled two hours into our wilderness home for the next week. I look back on my family's vacations to the Adirondacks (as well as countless other outdoor adventures) as having very lasting and profound effects on the person I have become and the direction my life has taken.
My most cherished memories, both in the Adirondacks and elsewhere, all seem to have one commonality- being outside. Instrumental in shaping my interest in ecology and education were the days spent playing in forests, near ponds and oceans, and in my own backyard. Throughout adulthood, these interests continued to grow into professional interactions within the scientific and education communities.
In contrast, children today have increasingly limited experience of the outdoors, which many believe is contributing to decreased understanding and appreciation of the environment on which humanity depends. As I see more children disconnected from the natural world, I feel more passionate about getting children outside to help ignite interest in understanding and questioning that world.
Connecting with the natural world is critical to a child's development and well-being. Early outdoor experiences lead children to fully appreciate and build a relationship with their environment. Ask an ecologist or outdoor enthusiast what first sparked their interest, and most often you will hear the answer is not what they learned in an upper-level science class, but actually getting dirty, wet, and hooked on nature. A field station like Huntington Wildlife Forest is an ideal setting in which to become acquainted with nature.
Life has come full circle for me. Remarkably, my work at the AEC encompasses many of my passions: being outside, learning about the natural world, and guiding others to do so. I have worked with a variety of schools on small mammal and deer ecology, and the mining history of the area. I will be building new programs in the coming months. I am excited about the opportunities for education and outreach and look forward to building lasting relationships with schools, students, and organizations in the area. I hope to pass along the wonder of the Adirondacks in all that I do, providing outdoor experiences and incorporating scientific research as a teaching tool to educate, inspire, and empower young minds.
As Senegalese poet, Baba Dioum writes, "In the end we conserve only that which we love; we will love only that which we understand; we will understand only that which we are taught." My goal is not only to teach about the natural world, but to inspire curiosity and a desire to learn as well.
Erin Vinson is an Education Specialist with the AEC.
Recent ESF News
News Archives
Communications & Marketing
SUNY-ESF
122 Bray Hall
1 Forestry Drive
Syracuse, NY 13210
315-470-6644