SHARE:
Reflection of the Environmental Scholar Retreat
Adirondack weekend aims to create bonds among students

4/12/2010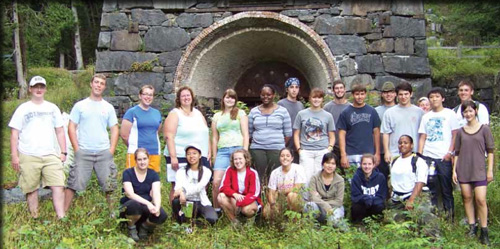 By Kelley Donaghy
Standing in the parking lot of ESF's Moon Library under gray skies and an intermittent drizzle, surrounded by a fleet of vehicles, I thought: "What have I gotten myself into?" As brand-new freshmen said good-bye to their parents and families, the prevailing thought going through my head was, "What do I know about leading a group on a retreat? How do I make sure the goals of the retreat - bonding, group dynamics and camaraderie - are met?" But it was too late now to reflect; we were beginning our adventure.
The Environmental Scholars Program is a National Science Foundation-funded scholarship program to promote science, technology, engineering and mathematics (STEM) education. This new program at ESF is geared toward promoting inclusive excellence with a goal of creating a more diverse student population. The program provides financial aid to students in STEM majors.
One of the primary goals of the program is to create a unified group of students who learn from each other about the different STEM majors at ESF, support each other in their coursework, engage in meaningful interdisciplinary service work and graduate with a well-rounded experience. As the first step, each year the group meets prior to the academic year for a retreat at the Adirondack Ecological Center.
Stopping briefly at Old Forge, the E-scholars were quiet and reserved, as expected. They'd just travelled from home and been whisked away on a long drive to an unfamiliar place that smelled of pine, soil and moisture. It was going to take time and common experience to break the silence.
Arriving at the AEC we were greeted by a fabulous display of thunder rumbling through the hills and rain pelting us. After dinner, AEC educator Paul Hai gave a fasci-nating history of the AEC and a test of our knowledge of American history.
The next morning, we met under clearing skies by the bunkhouses for a tour and introduction to the geology of the Adirondacks. Visiting the headwaters of the Hudson River was a highlight for many, as was the description of the industry surrounding the town of Adirondac. By far one of the more impressive sights was the nearly intact blast furnace that rose like an Aztec ruin from the forest. After lunch and hikes up Goodnow Mountain or along the shore of Arbutus Lake, we enjoyed a wonderful swim in Rich Lake as a crescent moon rose over the fire tower on Goodnow Mountain.
That evening around the campfire, I sensed the camaraderie and fun of a shared experience. Everyone was full of chatter, and one E-scholar shared her gift for playing the fiddle. Sprawled out under the night sky full of shooting stars, a clear sense of just how small we are in the grand scheme of the universe swept over us.
Fog greeted us Tuesday morning, but we looked up with hope to see that a blue sky was just visible. We were going whitewater rafting. The weather cleared by the time we reached the river and the day turned out to be exquisite. I watched people grow on the river that day, learn to trust each other, rely on each other for their lives and test their own limits. It was an emotional experience.
The fire that evening was a time of reflection, a time to think about what we would take away from this retreat. I'm hoping the E-Scholars will retain a favorite memory that will help them through their first year at ESF. When stress starts to take over, the students can reflect on these days in the woods, be reminded of what buoyed them as they stepped out of their comfort zones here and use that strength to see themselves through each challenge.
Returning to campus, I realized the goals of the retreat had been attained. We all returned with a newfound sense of confidence, and I came back changed, too. I felt happy and excited by the possibilities for our world with young people like these caring about it. I look forward to watching all that these wonderful people will contribute to the world as they journey through it!
It is obvious from the reflections of the E-scholars and orientation leaders that they too were changed by our weekend in the woods. Please visit www.esf.edu/aec/E-scholars.htm to read their personal reflections. Here are just a few:
"Bringing everyone together before their first college semester starts at the AEC, isolated from distractions, to bond with the people they will know for hopefully the next four years and beyond, is a unique and power- ful experience." - Kathleen Dugan (teaching assistant, chemistry)
"I have never in my life been anywhere with absolutely no lights. As I was lying in my bed, I put my hand in front of my face and I couldn't see it! And it was so quiet that my ears were actually buzzing." - Stephanie Anos (Lake Ronkonkoma, N.Y.)
"I have never been somewhere where I can just pick blackberries and eat them right off the bush. Nor have I ever had the chance to actually learn what the plants I've been seeing were called." - Danielle Thomas (Queen's Village, N.Y.)
Kelley Donaghy is an assistant professor in ESF's Department of Chemistry.
Recent ESF News
News Archives
Communications & Marketing
SUNY-ESF
122 Bray Hall
1 Forestry Drive
Syracuse, NY 13210
315-470-6644