SHARE:
Waste Audit: 500 Cups, 87 lbs. of Compost, 64 lbs. of Recyclables
Earth Day event spurs reminder: Watch what you throw away

4/23/2010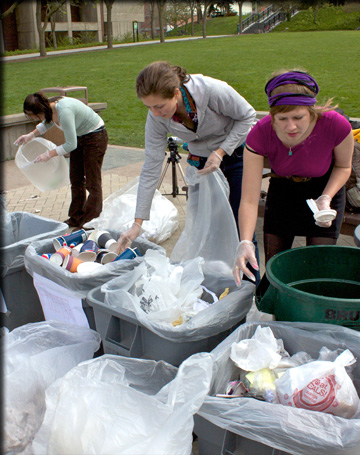 An Earth Day waste audit at the SUNY College of Environmental Science and Forestry (ESF) led a student "green campus" organization to remind the College community to be more careful about what goes into the trash.
Green Campus Initiative (GCI), a student-run group that focuses on finding ways for campus operations to be more sustainable, examined one day's worth of trash collected from three campus buildings: Illick Hall (classroom, laboratory and office space), Marshall Hall (classroom and studio space, and the Gallery snackbar) and Bray Hall (classrooms and offices).
Fifteen GCI volunteers divided the trash into piles: food waste, paper, plastic, metal, e-waste, and trash. The most significant amount of trash was food waste and paper cups, said Michael Amadori, a graduate student in ecological engineering. He found that surprising because every student who attends ESF receives a reusable mug during orientation and some campus events require participants to bring a mug if they want a drink.
"There needs to be some increase in the incentive program for bringing a mug to the food Gallery or charge students for using cups," Amadori said. "We can't get everything but we can try to make a difference."
The amount of food waste collected was surprising to the GCI volunteers because they launched a new composting system on campus in March. Collection bins for food waste are placed in each building on the campus. Amadori said, "It's not 100 percent participation and this shows it even after we've put a system into place."
Hannah Morgan, a senior environmental science major said, "I hope the waste audit makes our campus community more aware of the waste we're producing."
The ESF Physical Plant staff has helped GCI do the waste audit for years and GCI members expressed their gratitude for the staff members' help in delivering the trash to the quad and supplying the volunteers with a scale to weigh the trash
Among the findings:
' 500 non-recyclable cups, causing GCI members to remind students to utilize the "Lug-a-Mug" program sponsored by the Undergraduate Student Association, which provides a reusable mug to every new student.
' 87 pounds of compostable food.
' 64 pounds of recyclable materials.
GCI members reminded students, faculty and staff to use the compost bins and recycling receptacles that are in each building on campus.
Some items were pulled from the trash to be used later in the day for the Recycled Sculptured Competition, also hosted by GCI.
Recent ESF News
News Archives
Communications & Marketing
SUNY-ESF
122 Bray Hall
1 Forestry Drive
Syracuse, NY 13210
315-470-6644