SHARE:
ESF Graduates Told They Are at Forefront of Green Movement
Speaker: 'You are among the most unique of all time'

5/17/2010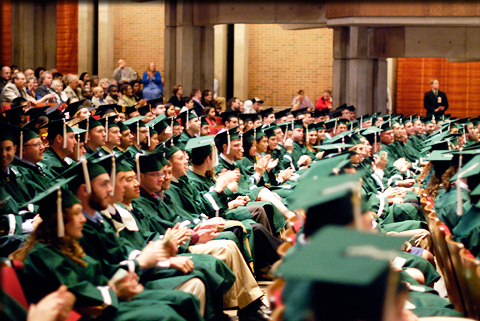 The 2010 graduates of the SUNY College of Environmental Science and Forestry, their families and friends were told during the College's annual convocation ceremony that these graduates are among the people who will determine the future of humanity.
That's how S. Richard Fedrizzi, president and CEO of the U.S. Green Building Council, began as guest speaker at ceremonies held Saturday, May 15, in Syracuse's John H. Mulroy Civic Center. Fedrizzi founded the Council and led the creation of the green building rating system known as LEED, Leadership in Energy and Environmental Design.
"Until now, I never had the chance to address a group that will have an impact on the future of our species," Fedrizzi said. "You are among the most unique of all time... the modern sustainability movement is being driven by your generation."
Fedrizzi told the graduates they are best equipped to deal with social justice, global affairs, and sustainability. "The modern sustainability movement is being driven by your generation," he said. "Clean air, clean water, and safe food are a basic human right." The audience burst into applause.
Fedrizzi said today's students are not afraid to confront government officials and prove that progress can be made. He pointed out that "while auto companies struggle to make a car that gets 50 miles per gallon, students have already built a car that gets 200 miles to the gallon."
He said today's graduates can take their fearlessness, intelligence and passion and turn it into a job. "You can do what you love, and love what you do."
Fedrizzi noted that there are successful, profitable environmental businesses, and more being developed. He said two million green jobs that previously didn't exist will be created in the next three years.
"Those of you graduating from ESF are uniquely positioned to be at the forefront," he said, citing a need for new perspectives. He pointed to massive investments in renewable technologies.
Fedrizzi said that an example of those needs is illustrated in the oil spill disaster currently playing out in the Gulf of Mexico. He said all of our futures are interconnected. "As the warranty is about to expire on the planet, know how much we pray for your success," he told the graduates.
He noted the ESF education will "propel (graduates) forward to do something amazing... and that may just be giving back" something to their world.
Recent ESF News
News Archives
Communications & Marketing
SUNY-ESF
122 Bray Hall
1 Forestry Drive
Syracuse, NY 13210
315-470-6644