SHARE:
ESF Convocation Stresses a Green Future
Students head into jobs, graduate schools

5/17/2010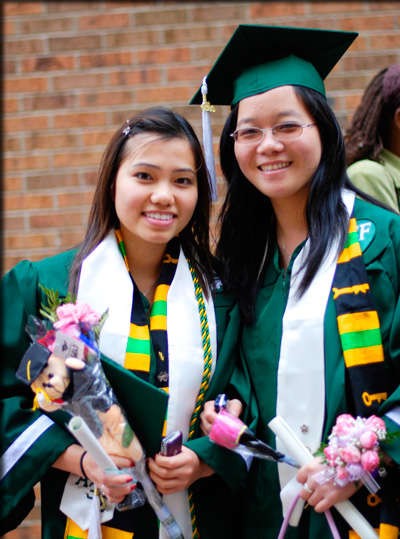 In a tough economic climate, many ESF graduates already have lined up jobs; many more are still looking. Others are continuing their education. But in speaking with these graduates, one theme is clear: They have confidence in their future because of the education they received.
Three hundred and thirty nine diplomas were awarded Saturday, May 15, at Syracuse's John H. Mulroy Civic Center at the 2010 Convocation of the State University of New York's College of Environmental Science and Forestry. Of those diplomas, 270 were bachelor's degrees, 61 were master's, and eight were Ph.D.'s.
Of those students who are heading into a career, Candice Lanette of Philadelphia, Pa., an environmental studies major, has a plan that might be unique.
"I'm going to do an apprenticeship with a younger couple as an organic farmer in New Hampshire," she exclaimed. "We've got to get ourselves back to the garden. It's on the brink of being a major thing... with all of the environmental issues we're doing these days."
Lanette said she sees organic farming as a major development in coming years. In fact, she's convinced colleges and universities will offer organic farming classes "very soon." The farm on which she'll be working is part of Community Supported Agriculture (CSA), which functions much like a food co-op.
For Timothy Gazzo and Xu Gu, the future is uncertain as they interview for jobs in their respective fields.
Gazzo, who is from Oyster Bay, N.Y., on Long Island, received a Master of Landscape Architecture degree. He already has a bachelor's degree in English and an associate's degree in ornamental horticulture and landscape development. He's hoping for a job in site design, taking into account ecological and cultural factors.
"(ESF) really gave me the fundamental grasp for the profession. It helped me develop a perspective," he related. Gazzo said classroom interaction and a focus on site design that integrated society and ecology is "a fundamental aspect of my (job) approach."
Gu, who hails from New York City and received his bachelor's degree for his major in environmental resources and forest engineering, said he is using his ESF experience to land a job in structural engineering. Unlike many of his ESF classmates, he is not focused on wood, but rather concrete.
"A lot of people in our major go into water, ecological, wastewater engineering. I'm trying to be a structural engineer," Gu said. "We had to take courses relating to structure. We also had an opportunity to get into areas that are environmentally related."
So Gu said his future job as an engineer will "figure more about the impact on the environment. If I'm trying to build a bridge, how does that impact the river or habitat of animals?"
SUNY-ESF President Cornelius B. Murphy, Jr., told graduates it was "an extraordinary day."
"I'm very proud of you. You've done an awful lot of incredible things," he said, citing students who helped build houses and plant trees in New Orleans, and others who worked to make the ESF campus "a more sustainable place."
Murphy said they are "part of the Green Generation."
"I know you are committed to a petroleum/carbon-free future; committed to lift people out of poverty, and create thousands of jobs," he said, urging graduates to be leaders dedicated to improve the quality of life.
Student speaker Kallistia Giermek, an environmental science major from East Aurora, N.Y., told graduates that "being a recipient of an ESF degree is no easy feat."
"We did it. We made it. And, we're here!" she announced. "We're right on the brink of the Green Movement and we have the home field advantage."
Guest speaker for the convocation was S. Richard Fedrizzi, president and CEO of the U.S. Green Building Council, who told the audience that "until now, I never had the chance to address a group that will have an impact on the future of our species."
"You are among the most unique of all time... the modern sustainability movement is being driven by your generation," Fedrizzi said. "As the warranty is about to expire on the planet, know how much we pray for your success."
Recent ESF News
News Archives
Communications & Marketing
SUNY-ESF
122 Bray Hall
1 Forestry Drive
Syracuse, NY 13210
315-470-6644