SHARE:
ESF to Establish Biomimicry Laboratory in Adirondacks
Newcomb Campus provides new opportunities for scientists

11/2/2015
ESF will establish a biomimicry laboratory in the heart of the Adirondacks so faculty, visiting scientists and students can devise nature-inspired solutions for sustainability challenges.
The Biomimicry Laboratory at the college's Newcomb Campus will be an Adirondack home for ESF's Roosevelt Wild Life Station and the first biomimicry lab in a wilderness. It will be established through funding from a SUNY 2020 Challenge Grant that will be used to increase the wireless connectivity and data storage, analysis, and communication capacity of both the Newcomb Campus and a biodiversity data center. The facilities will link field and laboratory observations on flora and fauna to new and more efficient designs, materials and products.
The funding, which totals $3.5 million, is included in an $18 million grant announced recently by New York Governor Andrew Cuomo. The grant establishes a "SUNY Labs to Jobs" consortium designed to provide students and businesses access to the most advanced labs and simulation centers for three major workforce sectors: health, biomedical series and biosciences; advanced manufacturing; and agribusiness and food processing. ESF's partners in the consortium are Onondaga Community College, SUNY Oswego, Upstate Medical University and Morrisville State College.
ESF President Quentin Wheeler said the college is well positioned to take on a leadership role in the field of biomimicry.
"ESF's natural history tradition, combined with its rich experimental forests in the Adirondacks and strength in sustainability problem solving, make the college uniquely capable of a leadership role in this emerging field," he said. "Engaging students in the process of creative problem solving enriches class material by showing its connection to the 'real world.'"
Wheeler said the ESF laboratory will also provide an example of transdisciplinary research in action: bringing together the strength of multiple specializations to tackle a complex problem.
Brian Houseal, director of the ESF Adirondack Ecological Center at the Newcomb Campus, said, "The proposed Roosevelt Biomimicry Laboratory for our ESF Newcomb Campus will be a great research and educational asset for the Adirondack North Country, the entire SUNY network, other colleges and universities and also K-12 school children interested in field-based natural sciences. With the new facility situated in the center of the Adirondack Park, we will be able to explore nature-inspired design solutions to global environmental changes and assist our rural communities to adapt innovative pathways to sustainability. We are excited and thankful for the SUNY 2020 funds to take this project from concept into practice."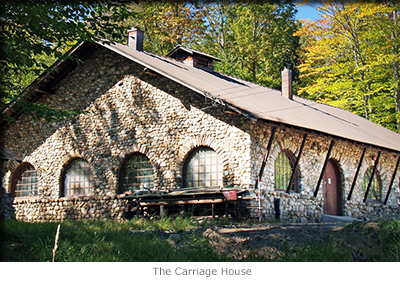 In Newcomb, a community in the center of the six-million-acre Adirondack Park, the Roosevelt Biomimetics Laboratory will be established in a historic 19th-century building on the college's Huntington Wildlife Forest. The Stone Carriage House, given to the college by benefactors Anna and Archer Huntington in 1939, will be renovated to serve as the laboratory and the Adirondack home for the Roosevelt Wild Life Station, dedicated since 1919 to the study of animals and plants in their natural habitats. The building is constructed of glacial stone and massive hand-hewn beams, and originally served as a garage for the Huntingtons' collection of carriages and automobiles.
The Stone Carriage House will be outfitted with state-of-the-art instrumentation and cyber-networked to a data center. Digital-imaging equipment will be used to record high-resolution images and videos in addition to databased descriptions and information about biomimetic potential.
"We will generate a library of nature-inspired ideas for a sustainable future," Wheeler said.
The laboratory will engage with local high schools to demonstrate the excitement of science, technology, engineering and math fields that provide learning and career opportunities literally in the students' backyards. Digital microscopy integrated with videoconferencing will enable the college to bring the laboratory into classrooms at the Syracuse campus and to high schools around the state.
The college expects to begin work on the project in January with designs for the laboratory in Newcomb. Final installation and testing of equipment on both the Newcomb and Syracuse campuses is expected to occur in the spring of 2017.
Wheeler predicts the facility will allow ESF and New York state to play a leading role as biomimicry emerges as an economic driver. "Through biomimicry, the innovations of nature allow us to develop technologies, designs, materials, processes and products that improve our lives, reduce human impacts on the environment, and create jobs," he said. For example, Wheeler said, we can reduce the waste stream with naturally degradable materials and design landscapes and cities based on ecological principles. Nature is becoming recognized as a "treasure trove" of innovation, and bio-inspired industries are expected to transform large segments of various business sectors over the next two decades. Biomimicry has also been identified as one of five "clean-energy" trends.