SHARE:
$190,000 SUNY Award Supports ESF Online Education
Chancellor announces funding in State of University Address

1/11/2016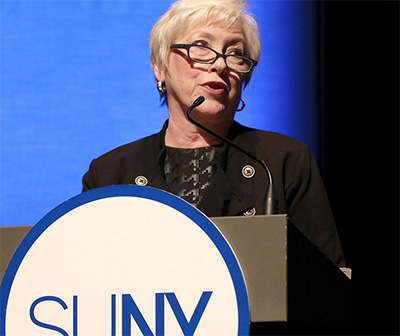 ESF has received a $190,000 SUNY Investment Fund award to support the development of new online-enabled programs focusing on science, technology, engineering and math (STEM).
The funding was announced Monday, Jan. 11, by SUNY Chancellor Nancy Zimpher during her annual State of the University Address.
The award will lay the foundation for two new avenues for ESF to deliver educational programs:
The ESF Open Academy will provide current and new online-enabled undergraduate and graduate courses, certificates, degree programs and informal learning experiences to students enrolled at ESF and other colleges and universities. The material will also be made available to high school students, professionals and lifelong learners throughout New York state and beyond.
The ESF Teaching and Learning Collaboratory will provide faculty professional development support for online-enabled education, and feature an ESF Academy of Fellows that will foster relationships with recognized scholars and organizations aligned with the college's mission to develop online-enabled programs.
ESF President Quentin Wheeler said the new opportunity will expand the college's ability to execute its mission while enhancing the university system's excellence.
"ESF has a strong tradition of not only discovering new knowledge but applying that knowledge to better the world in impactful ways. Funding establishing an ESF Open Academy creates new ways to share our knowledge across the SUNY system, New York state and the world." Wheeler said. "Through formal and informal science education programming, and objective and authoritative scientific content, ESF can further its mission to better manage forests and resources, explore nature for sustainable solutions, increase public science literacy, and provide uniquely excellent educational experiences across the environmental sciences broadly. This is the latest example of SUNY's relentless quest to be best in the world at getting better."
The initiative is expected to help establish a platform on which to build ESF's undergraduate and graduate enrollments in online-enabled programming, dovetailing with efforts by both ESF and SUNY to enhance STEM-related programs. The work at ESF is part of a broader project, Open SUNY, a university-wide collaboration that opens the door to world-class online-enabled learning opportunities.
ESF has launched an assessment of its educational and technological systems to determine its current capacity for delivering material through the ESF Open Academy and to look for ways to enhance that capacity.
"We at ESF have an enduring commitment to excellence in undergraduate and graduate education, faculty development, and professional, PK-12 and public education outreach," said Dr. Charles Spuches, assistant to the president for Outreach. "We are enthusiastic about building upon a range of technology-enabled educational initiatives, conducted over the last 20 years, that have positioned us to pursue an even more innovative and integrated organizational framework that will enable us to extend, well beyond the confines of our campus, distinct mission-based leadership within and on behalf of SUNY. At the center of this initiative is the ESF Open Academy, an innovative approach through which we will provide online-enabled undergraduate and graduate courses, certificates, degree programs, and informal learning experiences to ESF, SUNY and other college and university students, high school students, professionals and lifelong learners throughout New York state and beyond."