SHARE:
ESF Professor Honored by SUNY Chancellor
Dr. Kimmerer named Distinguished Teaching Professor

6/22/2010
The video associated with this story has been removed. Contact web@esf.edu if you need further information.
SYRACUSE - Dr. Robin Kimmerer, a professor at the SUNY College of Environmental Science and Forestry (ESF), was honored by SUNY Chancellor Nancy L. Zimpher for her extraordinary achievement as a teacher, scholar and mentor.
Kimmerer was appointed Distinguished Teaching Professor which recognizes and honors mastery of teaching at the graduate, undergraduate or professional levels. Candidates must have demonstrated consistently superior mastery of teaching, outstanding service to students and commitment to their ongoing intellectual growth, scholarship and professional growth, and adherence to rigorous academic standards and requirements.
Kimmerer has taught in ESF's Department of Environmental and Forest Biology since 1993. She received the John Burroughs Medal award for her book, Gathering Moss: A Natural and Cultural History of Mosses. She received the ESF Foundation Award for Exceptional Achievement in Teaching which celebrates the accomplishments of ESF faculty and staff members who excel at the art of teaching. She has also received the Undergraduate Student Association's Distinguished Teaching Award twice and the Baobab Society's Faculty Member of the Year Award.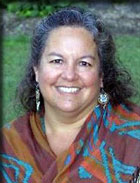 Kimmerer, who is part Potawatomi, is the director of the Center for Native Peoples and the Environment at ESF. The center focuses on developing connections between traditional ecological knowledge and western scientific approaches.
Recent ESF News
News Archives
Communications & Marketing
SUNY-ESF
122 Bray Hall
1 Forestry Drive
Syracuse, NY 13210
315-470-6644