SHARE:
New Honor for the Chancellor: A Namesake Beetle
ESF president names new species 'Zimpherus nancae'

1/25/2016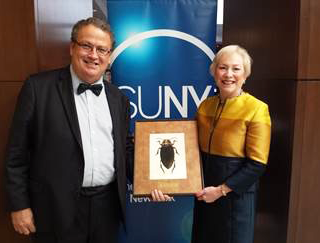 SUNY Chancellor Nancy Zimpher has collected a lot of honors in her distinguished career but the one bestowed recently will stand out as unusual in her lengthy resume.
Joining the official list of known species in the animal kingdom is Zimpherus nancae, a previously undescribed beetle from Venezuela. ESF President Quentin Wheeler, one of two scientists who reported the discovery in "The Coleopterists Bulletin," presented Zimpher with a framed image of the new beetle during a meeting in Albany.
"I am passionate about species exploration and all that Earth's animals and plants can teach us about better ways to meet human needs while at the same time conserving biodiversity. I was touched that Chancellor Zimpher remembered comments I had made about the need for species exploration in my inauguration speech and felt her attentiveness - as well as her superb leadership of the State University of New York - deserved recognition. For a taxonomist, what better way to say, Thank you,' than with the name of a new species?"
The newly described beetle is not only a new species, it is an entirely new genus.
"New species are discovered every day, about 50 of them on average, or 18,000 in a typical year. Occasionally, a new species is so different that its combination of features does not fit within any existing genus and a new genus name is required as well. We decided to honor Chancellor Zimpher with both genus and species names, and, because a species named for a woman ends in '-ae,' nancae is pronounced the same as Nancy."
"The new species is elegant in appearance and graceful in motion, but the similarity to Chancellor Zimpher ends there," Wheeler said. Like the nearly 4,000 other species of its family, it is a ferocious predator of other aquatic invertebrates. Large-sized relatives have been known to attack fish larger than themselves. The new species is less than one-tenth of an inch in length, while its largest relative is nearly two inches. In several parts of the world, including China, Thailand, New Guinea and Mexico, the tables are turned when people eat predaceous diving beetles.
Wheeler reported the discovery with Dr. Kelly B. Miller of the Department of Biology and the Museum of Southwestern Biology at the University of New Mexico.
The beetle was discovered among specimens collected from rainforest habitat in southern Venezuela near the border with Brazil. When a new species is named, a single specimen known as a holotype serves as a kind of international standard with which the name is forever associated. The holotype is deposited in the Museo del Instituto de Zoología Agrícola Francisco Fernández Yepez, Universidad Central de Venezuela, Maracay, Venezuela.
Recent ESF News
News Archives
Communications & Marketing
SUNY-ESF
122 Bray Hall
1 Forestry Drive
Syracuse, NY 13210
315-470-6644