SHARE:
Dr. Georgios Mountrakis Honored as Exemplary Researcher
Researcher presents Adaptive Peaks Seminar

2/16/2016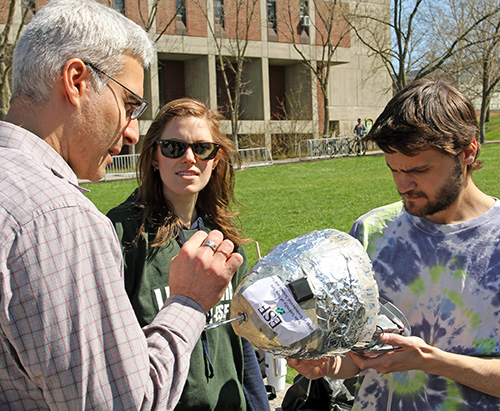 Dr. Georgios Mountrakis has been honored with the SUNY College of Environmental Science and Forestry's (ESF) Exemplary Researcher Award.
The award recognizes a current researcher who has exemplary research activity, an impressive publication record and active graduate/undergraduate student research programs. Mountrakis is the 10th recipient of the award.
Mountrakis' areas of expertise include environmental monitoring using remote sensing methods, environmental monitoring using geographic methods and environmental decision systems. He is the founder of the Intelligent Geocomputing Laboratory at ESF which is devoted to the research activities of graduate students in geospatial science and engineering.
His teaching is innovative through student-engaging activities and includes courses in digital image analysis, spatial statistics, remote sensing, surveying, GPS and artificial intelligence in geography.
In 2015, 15 students in an engineering class taught by Mountrakis participated in the Global Space Balloon Challenge, which involved 295 teams in 47 countries on six continents. The goal was to use innovative design to develop balloons that gather data in a less expensive manner than satellites.
The one-credit course, "ESF Goes to Space," went beyond the students' degree requirements. "So they really have to enjoy what they're doing," Mountrakis said. "I want them to reach their potential. If it doesn't work, it shouldn't be for lack of effort or testing. It will just be that somebody outsmarted us." The balloon was launched April 29 from the ESF Quad after a semester of designing, constructing and testing.
Mountrakis has been successful at securing external competitive grants from NASA, the National Science Foundation, the U.S. Department of Agriculture Forest Service, U.S. Agency for International Development and the Syracuse Center of Excellence. He has been the lead investigator for approximately $2.3 million in research funds, through individual and collaborative grants. He has published in a range of journals and books and has presented his work in various national and international conferences. He has been the recipient of several awards in recognition of his academic and research achievements, including an award from NASA's New Investigator Program, International Society for Photogrammetry and Remote Sensing Excellent Reviewer Award and a postdoctoral fellowship from the National Academy of Sciences.
The Exemplary Researcher Award, which is made annually, provides a $5,000 research account that can roll over for three years. Earlier this month, Mountrakis presented a campuswide research seminar highlighting his work on "GeoEnvironmentalism: Engineering an Equitable and Sustainable Future."
Recent ESF News
News Archives
Communications & Marketing
SUNY-ESF
122 Bray Hall
1 Forestry Drive
Syracuse, NY 13210
315-470-6644