SHARE:
Young Alumni Return to ESF as Recruiters at Career Fair
Annual environmental career fair brings 85 employers to campus

2/24/2016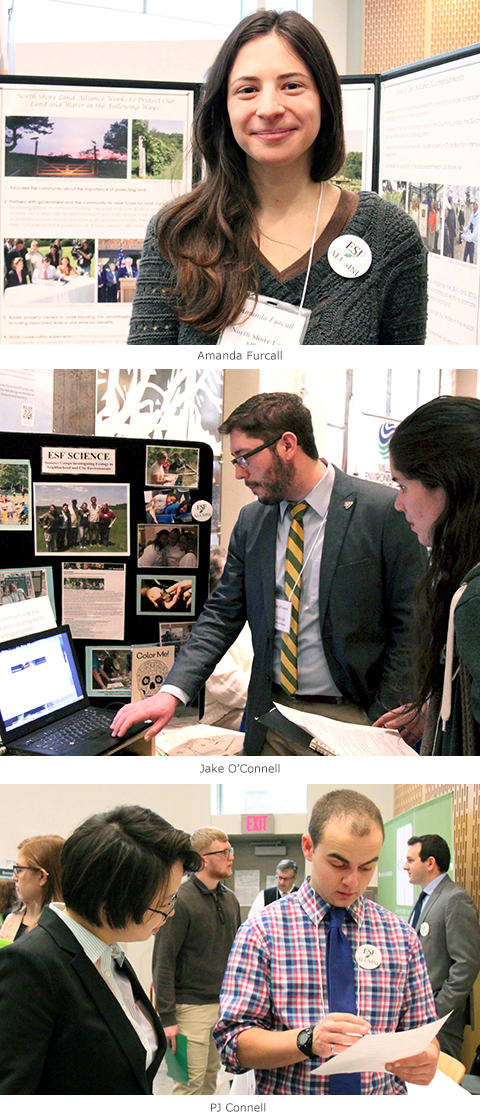 When Peter "PJ" Connell interviewed with D&B Engineers and Architects, P.C., his prospective boss hadn't heard of ESF.
"After the interview he looked it up and was impressed with what he saw. He not only hired me but decided to invest time in recruiting at ESF," said Connell, a 2015 graduate of ESF's environmental resources engineering program.
Connell returned to campus Feb. 24 as a representative of D&B Architects at ESF's 15th Annual Environmental Career Fair. The career fair brings more than 85 potential employers to campus, giving students the opportunity to speak with representatives of large and small private companies as well as government employers.
Connell, a water supply engineer based on Long Island, said ESF prepared him well for his career. "I love what I do," he said. "It's exactly what I trained for with my degree. I'm using a lot of the things I learned at ESF."
Jake O'Connell, a 2005 environmental science graduate, said he "sort of morphed" into his current position with ESF's Office of Outreach. As a student, O'Connell was a counselor in the office's ESF SCIENCE (Summer Campus Investigating Ecology in Neighborhood and City Environments) program. Today, he plans professional education development conferences, and works with the ESF in the High School and K-12 STEM programs.
"I love being able to engage K through 12 and adult life-long learners and share the message of ESF and help our programs grow," he said. "Having been involved in ESF SCIENCE as a counselor and as a participant long ago, it's exciting to be on the end of hiring a new team."
When meeting with possible recruits, Kyle Perkins ('15, environmental science) encouraged students to "put yourself out there. Have a resume and be willing to go up and talk to people. Don't be afraid to have a conversation."
"It's surreal to think a year ago I was trying to hunt down leads and break the ice with people and now I'm one of the people students are trying to talk to. It's a great position to be in," Perkins said.
In his position as an energy pricing analyst for Blue Rock Energy, Perkins prices commodities such as electricity and gas for commercial and residential properties then develops the contract pricing structure. "One hundred percent of what I do today I learned in Michael Kelleher's Energy and Markets Regulation class," Perkins said.
It's not only classwork that translates into careers. Amanda Furcall ('13, conservation biology) said students should start gaining hands-on experience through volunteering or internships. "Say 'yes' to things," she suggested. Furcall, an associate land steward and internship coordinator for North Shore Land Alliance, Inc., was looking for students for her agency's internship program. The agency is dedicated to preserving green spaces and historical sites along Long Island's North Shore.
"It's great to be in an organization I respect and I can pull in students from a university that I'm so proud to have graduated from," Furcall said.
Will Phillips ('15, construction management) echoed Furcall's sentiments regarding hands-on experience. Phillips, an assistant project manager with DGA Builders, LLC, noted getting as much hands-on experience as possible is crucial to success. As an assistant project manager, Phillips said he's not necessarily swinging a hammer or pounding nails, but "you need to understand the process and how things get done. You have to be able to lead and give direction."
Recent ESF News
News Archives
Communications & Marketing
SUNY ESF
122 Bray Hall
1 Forestry Drive
Syracuse, NY 13210
Communications@esf.edu