SHARE:
SUNY-ESF Breaks Ground for Gateway Building
Gateway Building will showcase sustainable technology

8/6/2010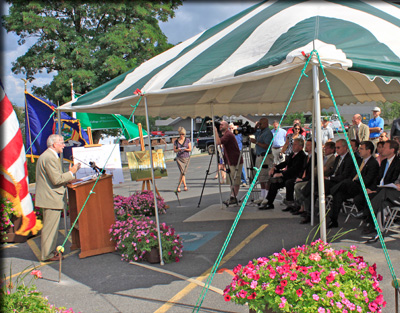 The SUNY College of Environmental Science and Forestry (ESF) broke ground Friday, Aug. 6, 2010, for construction of the new Gateway Building, a $28.3 million project that will showcase the college's commitment to sustainability through a sophisticated array of renewable energy technologies.
Designed to meet the highest Platinum Leadership in Energy and Environmental Design standards set by the U.S. Green Building Council, the ESF Gateway Building will produce energy for itself and several other buildings on the ESF campus. At the same time, it will become a focal point for campus life with space for student gatherings, exhibitions and conferences; a cafeteria; and a fitness center.
"The Gateway Building's design and construction sets a new standard for LEED buildings, producing more renewable energy than it consumes," said ESF President Cornelius B. Murphy, Jr. "The building has a state-of-the-art bioclimatic shell while using solar, biodiesel and biomass resources to provide most of its energy requirements."
Construction of the Gateway Building was undertaken with support from N.Y. Sen. John DeFrancisco, who provided approximately $6.3 million of critical funds for the project.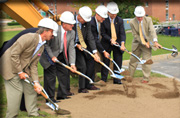 "It is exciting to have a cutting-edge green facility like the Gateway Building in our community. The energy-saving building design will be good for the environment and help to transform ESF and set it apart from other campuses," DeFrancisco said.
The Gateway Building will be located on the ESF campus just west of Moon Library. The construction is part of a major transformation getting under way on ESF's main campus.
The ESF College Foundation, Inc., has already begun construction of the college's first residence hall. The 454-bed facility will house 280 freshmen and 174 upperclassmen. The facility is being constructed on Oakland Street, just west of the main ESF campus. Previously, ESF students have lived in Syracuse University housing or off-campus apartments in the university neighborhood.
The Gateway Building will contain facilities that have never before been offered on the ESF campus.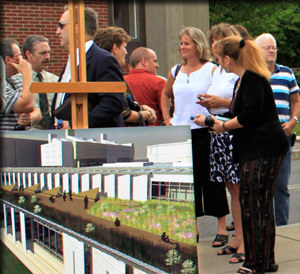 The main (entry-level) floor will feature:
a conference and event center with seating for up to 500 people
a new and larger College Bookstore
an exhibition gallery displaying the college's Roosevelt Wild Life Collection and other exhibits
a cafeteria with table seating in an adjacent south concourse.
A second (upper-level) floor will feature:
a sustainable green roof made from plantings native to Central New York, with a walk-out observation deck
roof-mounted photovoltaic and solar thermal systems to provide electricity and hot water
conference rooms and offices for ESF Outreach and the Office of Undergraduate Admissions.
A third (lower-level) floor will feature:
a combined heat and power (CHP) system designed to produce steam heat and electric power for the Gateway Building and four additional academic buildings, meeting up to 65 percent of ESF's campus heating needs and 20 percent of its electrical needs
a fitness center serving ESF students, faculty, staff and alumni, and providing improved training facilities for our intercollegiate athletic teams.
One of the building's outstanding features is a unique combination of renewable energy systems and green building design. This building is expected to achieve a LEED Platinum level of sustainability while reducing ESF's campus energy costs, fossil fuel dependence and carbon footprint. Some of the significant "green building" components of the facility include:
a combined heat and power system that will use a wood pellet-fueled boiler connected to a steam turbine to produce heat and electricity during the coldest months of the year. This thermal-rich biomass system will be coupled with a second CHP system using three micro turbines fueled with natural gas and biodiesel to produce additional heat and electricity on a year-round basis.
a vegetated green roof with soil depths of 8 to 16 inches to provide insulation and manage storm water runoff
natural ventilation and radiant floor heating, energy efficient windows and metal-clad exterior
sophisticated environmental monitoring systems and controls
roof-mounted photovoltaic and solar thermal systems to produce renewable energy
rain gardens to manage storm water runoff
significant use of natural wood and recycled building materials.