SHARE:
Malmsheimer Shares Sustainability Expertise with European Policymakers
Faculty member meets with leaders in Brussels, London

3/11/2016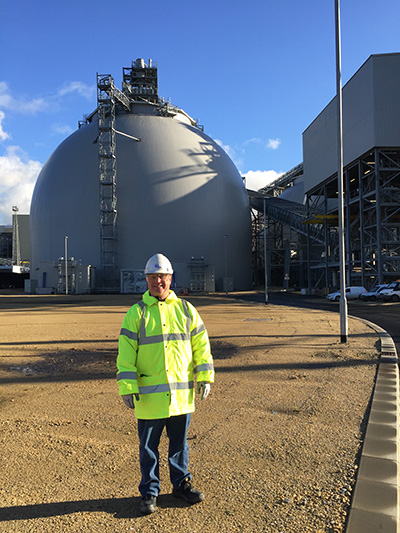 Dr. Robert Malmsheimer traveled to Europe this past fall to meet with policy makers to discuss sustainability and the carbon benefits of using wood pellets from the southeastern United States to produce energy.
In Brussels, Malmsheimer, a professor of forest policy and law in ESF's Department of Forest and Natural Resources Management, met with members of the European Parliament and the U.S. Mission to the European Parliament. He also gave a presentation at a reception hosted by Member of the European Parliament Timothy Kirkhope.
"My visit educated European policymakers on two things," said Malmsheimer, "the sustainability of wood pellets from the southeastern U.S. and … the carbon accounting aspects [of using those wood pellets] … to produce electricity rather than coal.
"The United Kingdom's largest electric utility, Drax, runs a power station with six turbines. Three of those have been converted [from coal] to wood pellets, with most of those pellets produced in the southeastern U.S.," he said. "Drax is the largest producer of electricity in the world from wood pellets. They produce about 7 percent of all electricity in the U.K., so about 3.5 percent of electricity in the U.K. comes from biomass energy."
Because the U.K. does not produce the 7.5 million metric tons of wood pellets Drax needs for its power plant, they import the pellets in from the southeastern United States. "These are massive volumes of wood pellets," Malmsheimer said. Drax is using approximately 7.5 million metric tons of wood pellets a year, and in 2014, 58 percent of those pellets were imported from the United States
"The United States uses a good deal of biomass, but we're not using much of it to produce electricity," he said. Instead, the nation mostly uses biomass in combined heat-and-power or thermal applications.
"The reason that the U.S. is not converting coal plants to biomass is because natural gas is so much cheaper here than in other parts of the world," Malmsheimer explained. "Many U.S. coal plants have been converted to natural gas within the last eight years and this provides the U.S. with significant carbon savings at very low, unsubsidized prices. For the U.S. to produce electricity from biomass at the same prices as natural gas, the U.S. would have to adopt significant subsidies."
"The subsidies in the U.K. are high and that is why Drax can afford to import wood pellets," he said. "That's not a bad thing, since it allows the U.K. to significantly decrease their greenhouse gas emissions so their government can comply with their climate change obligations."
In London, Malmsheimer also met with the chief scientific advisor at the U.K.'s Department of Energy and Climate Change, and a team at the U.K.'s Committee on Climate Change, which is developing the nation's carbon budgets for the next couple of decades.
Malmsheimer also gave a presentation at the House of Commons to the All Party Parliament Group on Biomass. The presentation and panel discussion that followed was sponsored by Nigel Adams, a member of Parliament.
Malmsheimer's research focuses on how climate change and carbon sequestration policies affect forest resources. He has also researched the carbon accounting aspects of using wood products and wood for energy. He worked with the Society of American Foresters (SAF), studying the interaction between climate change and forests. In 2007 and 2011, he chaired SAF task forces that compiled, assessed and then summarized the peer-reviewed science regarding climate change and forests.
He's been a member of SAF's Carbon Accounting Response Team since 2013, which provides United States policymakers with science-based information on the climate benefits of using wood.
In 2014, Malmsheimer was a co-author on the "Forests" chapter of the U.S. National Climate Assessment. "Basically all these experiences have provided me with the knowledge and insights to give presentations to, and have discussions with, legislative and administrative policymakers."
Recent ESF News
News Archives
Communications & Marketing
SUNY-ESF
122 Bray Hall
1 Forestry Drive
Syracuse, NY 13210
315-470-6644