SHARE:
ESF Earns a Top Spot in U.S. News Rankings
College is 25th in 'Great Schools, Great Prices' category

8/17/2010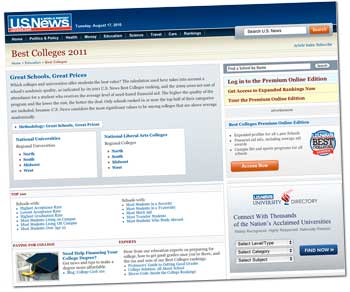 The SUNY College of Environmental Science and Forestry (ESF) has, for the tenth year in a row, earned a place among the top universities in America, as ranked by U.S. News & World Report.
In the "Great Schools, Great Prices" category of the 2011 edition of America's Best Colleges, ESF is ranked 25th among the national universities. ESF is the only SUNY institution listed in that category.
The formula used in that category relates a school's academic quality to the net cost of attendance for a student who receives the average level of need-based financial aid. The magazine states: "The higher the quality of the program and the lower the cost, the better the deal." U.S. News considers the most significant values to be among colleges that are above average academically.
On the "Great Schools, Great Prices" list, ESF ranks between Georgetown University and the University of California at San Diego.
ESF is listed at 34 among the top public national universities, the highest-ranked SUNY institution in that category. Binghamton University is listed at 39 with Stony Brook University at 45.
In the "Best National Universities" category, which includes both public and private national universities, ESF is ranked at 79, the highest-ranked SUNY school. The national universities group consists of the 262 universities that offer a wide range of undergraduate majors along with master's and doctoral degrees.
ESF was also listed among 84 universities in a category called, "A-Plus Schools for B-Plus Students" that recognizes outstanding colleges that admit part of their entering class from among B-plus average students with special qualities and academic interests. ESF, with academic programs focused solely on the environment, considers students' interest in environmental matters, in addition to grades and test scores, as a factor in the admissions process.
"We at ESF are very pleased at the recognition provided by U.S. News & World Report," said ESF President Cornelius B. Murphy, Jr. "It is largely earned by our extraordinary faculty and students."
Recent ESF News
News Archives
Communications & Marketing
SUNY-ESF
122 Bray Hall
1 Forestry Drive
Syracuse, NY 13210
315-470-6644