SHARE:
Spirit and Essence Banquet Highlights Diversity Week
Organizer: Dinner 'showed the future of ESF'

3/21/2016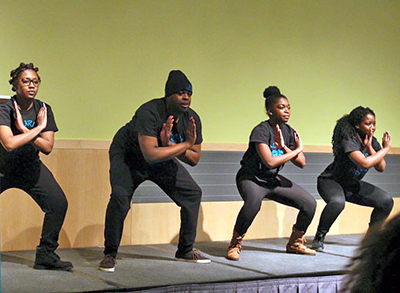 The ESF Baobab Society and the ESF Student Diversity and Inclusion Office hosted the annual Spirit and Essence Banquet Feb. 13, attracting a capacity crowd despite the snowy, negative 2-degree weather. The banquet concluded the 2016 Student Diversity Week, which featured numerous events on campus that promoted diversity awareness.
Baobab Society President Rhea Joseph and Scott Blair, director of Student Diversity and Inclusion Initiatives, hosted the event. In between two performances and a keynote speaker, there was a buffet dinner that offered traditional soul food including cornbread, macaroni and cheese, collard greens, fried chicken and banana pudding. Joseph said these foods were important to black culture; the program listed the significance of each food item.
Joseph explained the importance of events that encourage diversity and unity. "If you're a minority on a campus, in terms of what's going on in America - the violent deaths and killings of many different people - it gives students a safe place to know that they do matter and that they're not alone on campus." She said the turnout at the banquet, which included several members of the administration, "showed the future of ESF, where we are heading. Having the president, provost and the chief of staff there, as well as other faculty and administration, showed that ESF really does want to change in a more positive way" when it comes to diversity. She hopes that events like this will improve the diversity on campus and encourage students to look at things from different perspectives.
The performances at the banquet were by Black Reign and Legacy Underground Poets. Black Reign is the only non-Greek and co-ed step team at Syracuse University. The second performance was by two members of Legacy Underground Poets, a spoken word group, who performed poetry about self-love and accepting one's heritage.
The keynote speaker was Twiggy Billue of the Syracuse HOTEP Resource Center. Billue has been a resident of Syracuse's South Side since the early 1990s. She works toward racial equity and is known for her efforts to uplift children. In 2002, Billue received the Martin Luther King Jr. Unsung Hero Award from Syracuse University. This award is "presented to people who exemplify the spirit, life, and teachings of King, but who are not widely recognized for their effort."
At the Spirit and Essence Banquet, she emphasized the importance of diversity and unity, and the need to make progress by making people uncomfortable. Billue believes unity and diversity are one; they exist together. She challenged the audience to "be more intentional than comfortable, to challenge ourselves to do the things no one else will" in order to achieve diversity.
The event ended with Joseph presenting pins to the attendees. Engraved on the pins were these words: "Spirit and Essence Banquet '16, celebrating diversity and unity." She encouraged students and faculty to wear the pins to show unity in diversity throughout campus. She said, "It symbolizes your declaration; your promise to fight for people with different backgrounds."
Blair said the event was so well-attended that plans are already underway for next year's edition. "It was wonderful to have such a great turnout and we already have a tentative date for next year - Feb. 11, 2017," he said.
- By Yocasta Pichardo, ES '16
Recent ESF News
News Archives
Communications & Marketing
SUNY-ESF
122 Bray Hall
1 Forestry Drive
Syracuse, NY 13210
315-470-6644