SHARE:
Earth Day Event Focuses on Environmental Justice
ESF's Moonlighting Series highlights founder of Barefoot College

3/22/2016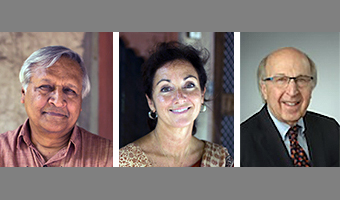 The connection between ethics, education and environmental justice will be discussed at the SUNY College of Environmental Science and Forestry (ESF) 7 to 9 p.m. April 22, Earth Day, in the Gateway Center on the ESF campus.
"Ethics and Earth Day: Finding Environmental Justice in a Complex World" is the third edition of ESF's Moonlighting series. Moonlighting is a series of informal discussions, debates and interviews hosted by ESF President Quentin Wheeler. Joining him for this discussion will be Sanjit "Bunker" Roy, the founder of the internationally acclaimed Barefoot College in India; Meagan Fallone, CEO of Barefoot College International; and Dr. Samuel Gorovitz, a professor of philosophy at Syracuse University and a leader in the development of medical ethics.
Roy was featured in the 2010 "TIME 100" list of influential personalities for his work in educating illiterate and semi-literate rural Indians. He was also listed in 2008 on The Guardian's list of "50 people who could save the planet." His development of the only college built by and for the rural poor has transformed the lives of more than 3 million rural people across 75 countries in the developing world. The solutions he espouses center on solar energy, water, education, connectivity, health care, handicrafts and the empowerment of women.
Fallone joined Barefoot College in 2011. She has guided the expansion of Barefoot College to more than 68 countries. She manages international operations, strategic planning and development for the College and speaks regularly on the power of women as agents of sustainable change and poverty reduction.
Gorovitz is the former dean of the Syracuse University College of Arts and Sciences. In addition to his work in the field of medical ethics, he has published extensively on other topics in philosophy and public policy. His advice on college governance and on health policy has been widely sought, and he has given more than 200 invited lectures in many countries on five continents.
Moonlighting is free and open to the general public. Those attending are asked to register. A link to registration is available at www.esf.edu/moonlighting.
Recent ESF News
News Archives
Communications & Marketing
SUNY-ESF
122 Bray Hall
1 Forestry Drive
Syracuse, NY 13210
315-470-6644