SHARE:
Scientists Honored for Study on Improving Odds for Bats' Survival
Frair, Prom part of winning research team

3/30/2016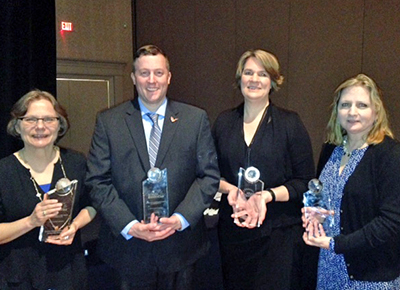 Two ESF researchers are part of an innovative team of scientists that has been honored for research focused on improving bats' odds of surviving white-nose syndrome (WNS) by investigating their migratory patterns, habitat use and ability to fight the disease itself.
USDA Forest Service Chief Thomas Tidwell presided over the 2016 Wings Across the Americas Conservation Awards ceremony held as part of the North American Wildlife and Natural Resources Conference in Pittsburgh, Pa., and honored outstanding work in the conservation of birds, bats, butterflies and dragonflies. Tidwell presented the research partnership award to a team, led by the USDA Forest Service, that includes researchers from the Forest Service's Northern Research Station and Forest Products Laboratory as well as ESF, state natural resource agencies in Wisconsin, Michigan, New York, Pennsylvania and Vermont, and three national forests. The partnership takes a holistic approach to studying the effects of WNS and aims to find ways to help bats cope with the disease, from studying whether microbes on their wings are helping build immunity to WNS to identifying where land managers might improve habitat so migrating bats are healthier and more resilient to the disease.
The ESF team members are Jacqueline Frair, a wildlife ecologist and associate director of the college's Roosevelt Wild Life Station, and lab technician Ben Prom.
"White-nose syndrome is as complicated as it is devastating," said Deahn Donner, principle investigator for the partnership and a project leader/landscape ecologist with the Northern Research Station in Rhinelander, Wisconsin. "It is a problem that has to be attacked from many angles and on many scales."
The study plan for "Multi-scale Landscape Approach for Studying the Secondary Effects of White-nose Syndrome in Bats of the Upper Midwest" was developed by Donner with co-principle investigators Paula Marquardt, a Northern Research Station population geneticist in Rhinelander, and Brian Heeringa, a wildlife biologist specializing in bats who splits his time between the Chequamegon-Nicolet National Forest and the Northern Research Station in Rhinelander.
"We accomplish more when we join forces, and this research team truly exemplifies the power of collaboration in science and conservation," said Tony Ferguson, acting director of the U.S. Forest Service's Northern Research Station and the Forest Products Laboratory.
In addition to Frair and Prom, the research partnership includes Daniel Linder, Jon Palmer and Michelle Jusino of the Forest Products Laboratory; Dan Eklund of the Chequamegon-Nicolet National Forest; Tim Catton of the Superior National Forest; Kari Kirshbaum of the Chippewa National Forest; J. Paul White and Jennifer Redell of the Wisconsin Department of Natural Resources; Bill Scullon of the Michigan Department of Natural Resources; Mike Scafini of the Pennsylvania Game Commission; Alyssa Bennett of the Vermont Fish and Wildlife Department and Carl Herzog of the New York State Department of Environmental Conservation.
Wings Across the Americas, sponsored by USDA Forest Service programs, works with a wide range of partners in the United States and overseas to conserve habitats and populations of birds, bats, butterflies, and dragonflies. Other awards honor conservation efforts connected to bats, butterflies and dragonflies.