SHARE:
Cultural Education
Graduate student introduces ESF to Persian New Year

3/31/2016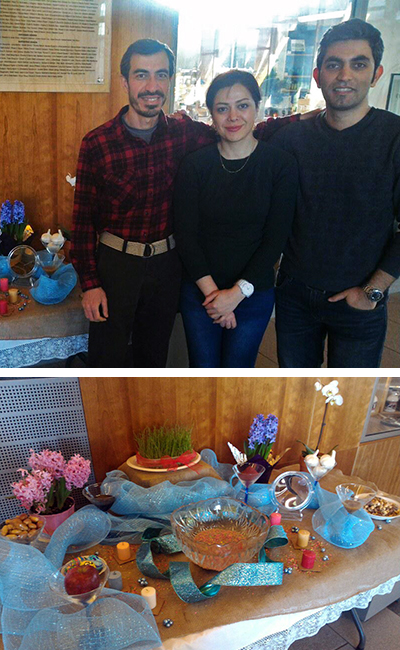 ESF graduate student Shahriar S. Heydari brought a bit of his Iranian homeland to campus this spring when he set up a display in the Gateway Center to educate the college community about Nowruz, the Persian New Year.
Heydari, with help from friends at both ESF and Syracuse University, set up a traditional Haft-Seen Table, an arrangement of items typically displayed for the New Year.
The Persian New Year is celebrated in connection with the spring equinox. This year's equinox fell on March 20, marking the start of Nowruz. Heydari said Nowruz is "very close to nature."
"We start our year exactly at the start of the spring and it has a lot of meaning. Spring is the time to renew, time for rebirth, time to restart," he said.
Nowruz tradition dates back more than 3,000 years and is celebrated broadly across Central Asia, the Caucasus region, South Asia, Northwestern China, the Crimea and parts of the Balkans.
Traditionally, the table holds seven items that have symbolic significances to the Iranian culture. Each item starts with the letter "seen," the Persian alphabet's equivalent to the English "s." Heydari collected wheat, apples, garlic cloves, oleaster fruit, vinegar, sumac and sweet paste. The students also included decorated eggs, candles, flowers, two live goldfish, a mirror and water. Each item has a special meaning: the garlic cloves, for instance, symbolize health/medicine and the goldfish symbolize life. Heydari said items on the Haft-Seen Table can vary but he and his friends stuck to traditional staples. He said the Haft-Seen "changes the atmosphere of the home" and that people place "items on the table as a symbol of good things."
Heydari lived in Denmark while he pursued his master's degree from 2012 to 2015, and he introduced Nowruz to his campus there. He said the response was positive. Having since moved on to ESF, where he is pursing a doctorate in environmental resources engineering, he wanted to introduce Nowruz here, too. With the help of Scott Blair, ESF director of Student Diversity and Inclusion Initiatives, Heydari reserved a table in the busy Gateway Center. Heydari said members of the ESF community were supportive and that Blair designed flyers promoting the display and distributed them around campus.
Heydari is confident people "are interested in other people's cultures and traditions" and he was pleased to see some ESF students reading some of the explanations placed around the display.
"I just continued with my tradition of introducing this beautiful part of our culture to any place that I go. I will be doing it next year and the year after that," he said.
- By Yocasta Pichardo ES '16
Recent ESF News
News Archives
Communications & Marketing
SUNY-ESF
122 Bray Hall
1 Forestry Drive
Syracuse, NY 13210
315-470-6644