SHARE:
ESF Earns High Marks in Five National Rankings
College cited for value, research contributions, 'cool' factor

8/23/2010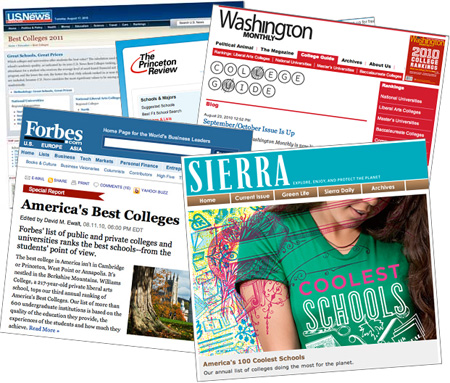 The SUNY College of Environmental Science and Forestry (ESF) earned high marks in August in five national surveys that rank colleges and universities on an array of factors.
The rankings placed ESF among the nation's most prestigious public and privateuniversities; ranked the college high for the value of its education; praised it for its contributions in the areas of research and service; and declared it "cool" for being among America's greenest campuses.
For the tenth year in a row, ESFearned a place among the top universities in America, as ranked by U.S. News & World Report :
In the "Great Schools, Great Prices" category of the 2011 edition of America's Best Colleges, ESF is ranked 25th among national universities.That category relates a school's academic quality to the net cost of attendance for a student who receives the average level of need-based financial aid.
In the "Best National Universities" category, which includes 262 of the nation's top rated public and private universities offering undergraduate and graduate degrees, ESF is ranked 34th among the public universities and 79th overall.
ESF was also listed among 84 universities in a category called, "A-Plus Schools for B-Plus Students" that recognizes outstanding colleges that admit part of their entering class from among B-plus average students with special qualities and academic interests.
Forbes Magazine placed ESFat No. 23 in its listing of "America's Best College Buys" for 2010.The rankings at the Forbes.com website focus on the investment that students and families make in a college education, and the value they receive in return. Forbes asked the Center for College Affordability and Productivity, a Washington-based think tank, to compile their rankings based on five weighted criteria areas:student satisfaction, postgraduate success, average student loan debt, four-year graduation rate,and competitivestudent awards.
The Washington Monthly College Guide ranked ESF as No. 26 among the nation's top service-oriented colleges and universities. Washington Monthly says it set out to devise a different way of ranking colleges: one based on the amount of service colleges provide to society. The magazine said it "devised a way to measure and quantify how well individual colleges and universities were meeting their public obligations in the areas of research, service and social mobility and we ranked schools based on the results."
The Sierra Club lists ESF at No. 45 among U.S. colleges and universities that have the greenest campuses. In their "Cool Schools" survey, energy supply carried the most weight. Other factors were efficiency, food, academics, purchasing, transportation, waste management, administration, financial investment, and other environmental initiatives.
The Princeton Review also selected ESF as one of the best colleges in the Northeast, as reported in the Review's "2011 Best Colleges: Region by Region."
"We are very pleased with the recognition provided by these publications, and it is largely earned by our extraordinary faculty and students" said ESF President Cornelius B. Murphy, Jr. "While we often caution against students and families placing too much weight on college rankings, the cumulative impact of ESF's high marks for academic quality and reputation, outstanding educational value, service to society, and environmental responsibility is certainly noteworthy."
Recent ESF News
News Archives
Communications & Marketing
SUNY-ESF
122 Bray Hall
1 Forestry Drive
Syracuse, NY 13210
315-470-6644