SHARE:
ESF Hosts Photo Exhibit of Migratory Birds along Onondaga Lake
Display sponsored by Onondaga Lake Conservation Corps, Audubon New York, Honeywell

4/14/2016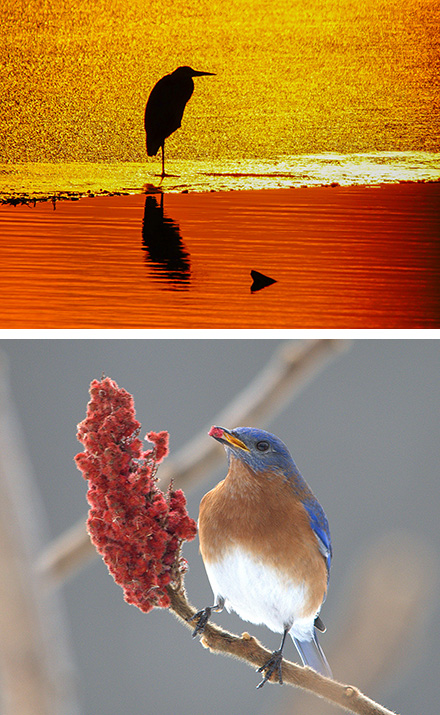 The Central New York community has a second opportunity - on Earth Day - to see local wildlife photographers' stunning images of migratory birds taken along the Onondaga Lake shoreline. An exhibit titled "Onondaga Lake: An Important Stop for Birds on an Impressive Journey" will be on display 6 to 7 p.m. Friday, April 22, at the SUNY College of Environmental Science and Forestry.
The exhibit, which debuted earlier this month, is sponsored by the Onondaga Lake Conservation Corps in partnership with Audubon New York and Honeywell. The exhibit is free and open to the public, and will take place in the Gateway Center on the ESF campus. Fifteen photos from the original, larger exhibit will be on display. Several of the photographers will be on hand to greet visitors and talk about their work.
Following the exhibit, ESF will host the third event in its Moonlighting Discourse Series: "Ethics and Earth Day: Finding Environmental Justice in a Complex World." Moonlighting is hosted by ESF President Quentin Wheeler. Joining him for this discussion will be Sanjit "Bunker" Roy, the founder of the internationally acclaimed Barefoot College in India; Meagan Fallone, CEO of Barefoot College International; and Dr. Samuel Gorovitz, a professor of philosophy at Syracuse University and a leader in the development of medical ethics.
The photo exhibit was first on display April 2 and 3 at Honeywell's Onondaga Lake Visitors Center.
"Onondaga Lake was named an important bird area because it provides critical habitat for migratory and overwintering species of the Atlantic Flyway," said Erin Crotty, executive director of Audubon New York. "Thanks to the cleanup and restoration efforts of Onondaga County, Honeywell, the Onondaga Lake Conservation Corps, and the Syracuse community, a variety of bird species can once again depend on Onondaga Lake for year-round nesting, breeding and stopover habitat. Thank you to the event photographers for sharing their talents with us and allowing us to showcase the significant role Onondaga Lake plays in the Atlantic Flyway."
Onondaga Lake is a priority Audubon Important Bird Area (IBA) and a vital stop for migratory birds along the Atlantic Flyway. Flyways are the general pathways that birds use to migrate each year between their breeding and wintering areas, including the places where they stop to rest and forage (or refuel) on the way. The Atlantic Flyway follows the Atlantic Coast and the Appalachian Mountains and encompasses some of the hemisphere's most productive ecosystems, including forests, beaches, and coastal wetlands. The Atlantic Flyway is home to a wide variety of ecosystems and more than one-third of the human population of the United States.
Onondaga Lake became an IBA in 1998 and was subsequently adopted by Honeywell, Montezuma Audubon Center, and Onondaga Audubon Society because of its value to waterfowl and bald eagles during the winter months, to connecting local communities to the importance of stewardship, and to improving the quality of habitat for birds and other wildlife. The IBA program serves as a catalyst for achieving bird conservation.
As part of the Onondaga Lake cleanup, Honeywell is planting about 1.1 million plants, shrubs, and trees in the Onondaga Lake watershed. To date, more than 50 acres of wetlands have been restored and more than 170 species of birds, fish, and other wildlife have returned to restored habitat near the lake. More than 85 unique bird species have been identified in and around Onondaga Lake, including several species categorized as threatened or of special interest in New York state. Pied-billed grebe, northern harrier, and bald eagle are among the notable bird species that have returned.
Recent ESF News
News Archives
Communications & Marketing
SUNY-ESF
122 Bray Hall
1 Forestry Drive
Syracuse, NY 13210
315-470-6644