SHARE:
ESF Joins Sustainability Rating System
Program tracks education and research; operations; planning, administration and engagement.

8/27/2010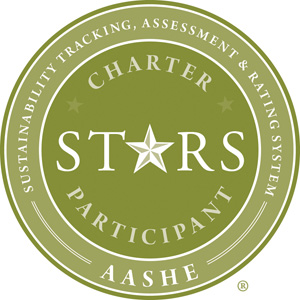 The SUNY College of Environmental Science and Forestry (ESF) is a charter participant in a new program to encourage sustainability in all aspects of higher education.
The program, called the Sustainability, Tracking, Assessment & Rating System (STARS), is administered by the Association for the Advancement of Sustainability in Higher Education (AASHE).
ESF is one of nearly 230 higher education institutions that have registered as STARS Charter Participants.
"ESF is proud to be a leader in this important effort," said ESF President Cornelius B. Murphy, Jr. "We continue to strive for sustainability in everything we do, responding to our students' call to 'practice what we teach.'"
ESF's sustainability efforts are outlined in the college's climate action plan, known as ECN2015 (abbreviated from the formal title: ESF Carbon Neutral by 2015). The plan sets out the steps the college will take to achieve carbon neutrality by 2015, using a combination of renewable energy products, sustainable construction, energy conservation and managed forestland.
A centerpiece of ESF's sustainability efforts will be the new Gateway Building under construction on the site of a former parking lot. Designed to achieve LEED Platinum certification, the high-performance building will explore financially feasible and technologically sound strategies to operate using renewable energy and produce energy for itself and other campus buildings.
ESF has also installed photovoltaic arrays, a biodiesel production facility, a bioretention basin, a green roof, a fuel cell, a wind turbine, an alternative fuel vehicle-fueling station and a Flexi-pave walkway.
AASHE's STARS program is the only one of its kind that involves publicly reporting comprehensive information related to a college or university's sustainability performance. Participants report achievements in three overall areas: education and research; operations; and planning, administration and engagement.
"The advantage of STARS is that institutions can earn credits for all of their contributions to sustainability," said AASHE Executive Director Paul Rowland. "From providing sustainability coursework, to using green cleaning products, to energy efficiency in campus buildings, there are lots of opportunities for a school to identify and track its sustainability progress."
Unlike other rating or ranking systems, this program is open to all institutions of higher education in the United States and Canada. The criteria that determine a STARS rating are transparent and accessible to anyone. Because STARS is a program based on credits earned, it allows for both internal comparisons as well as comparisons with similar institutions.
In 2008, ESF was among the 90 colleges and universities that participated in a pilot STARS program. ESF students are involved in the project, compiling reports during the pilot phase and continuing in that role as the broader program gets under way.
Recent ESF News
News Archives
Communications & Marketing
SUNY-ESF
122 Bray Hall
1 Forestry Drive
Syracuse, NY 13210
315-470-6644