SHARE:
ESF Steps up Alternative Fuel Use
6000 gallons of new storage plus dispensing stations

1/15/2008
The video originally included in this story is no longer available via this page. Contact web@esf.edu if more information is required.
Copyright © All Rights Reserved by copyright holder
The SUNY College of Environmental Science and Forestry (SUNY-ESF) took delivery of two 3,000-gallon above-ground fuel storage tanks, each with their own dispensing system to supply the college's growing fleet of alternative fuel vehicles.
Over 34-percent of the SUNY-ESF fleet of vehicles runs on some form of alternative fuel including flex-fuel (85-percent ethanol and 15-percent gasoline), biodiesel, electric hybrids, concentrated natural gas, and propane.
Each storage tank is divided into compartments; one will store ethanol and gasoline with a dispenser to produce the E-85 mixture needed for flex-fuel vehicles, while the other tank will store biofuel and diesel with a dispenser to produce the correct mixture needed for various vehicles.
ESF students are already producing much of the biofuel for biodiesel from the used cooking oil at a nearby college dining hall. Ethanol produced from the ESF wood-to-ethanol process will also be used for the needed flex fuel.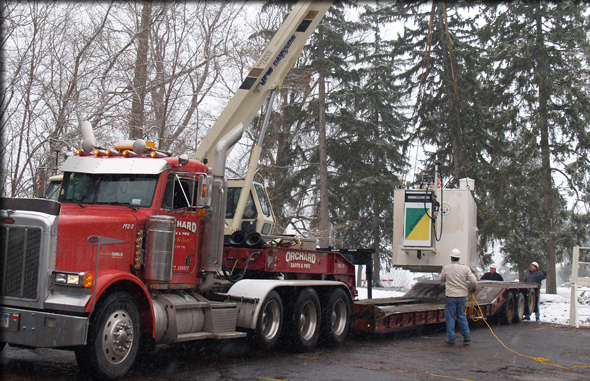 Recent ESF News
News Archives
Communications & Marketing
SUNY-ESF
122 Bray Hall
1 Forestry Drive
Syracuse, NY 13210
315-470-6644