SHARE:
Soccer Teams Compete in Labor Day Tournament
Men earn two wins; women leave with tie, loss

9/7/2010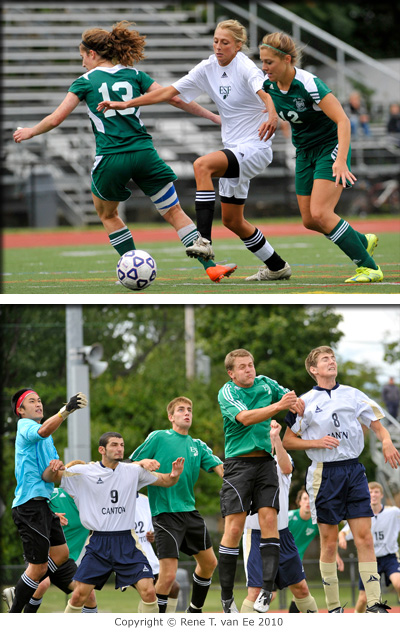 The ESF Mighty Oaks soccer teams competed in the first Labor Day College Soccer Tournament hosted by Daemen College over the holiday weekend. The men's team played its way to two victories and the women's team fought hard and ended the tournament with a tie and a loss.
Both teams played well against tough competition, their coach said..
"Both the men's and the women's teams have a lot to be proud of this weekend," said ESF Coach Dan Ramin.
The tournament began with both ESF teams battling familiar rivals, the teams from Paul Smith's College. The Mighty Oaks women began their game at noon Saturday and were led by Captain Meaghan Dalton, a junior. The Paul Smith's Bobcats proved to be worthy opponents and made for an evenly matched game. Despite both sides' efforts, neither was able to make it to the scoreboard. The game ended in a draw, 0-0, after double overtime.
The Paul Smith's men were not as lucky Saturday as the Mighty Oaks men started the game off strong, scoring in the early minutes and setting the stage for a 3-0 win. Freshman Ross Volpe scored two goals and senior Colin Hoffman scored once. After the early goals, the Mighty Oaks were able to hold off Paul Smith's and secure the win.
Sunday, the ESF women faced Warner University, a premier Florida soccer team. Despite the Mighty Oaks' best efforts, they suffered a 2-0 loss to Warner. Although they didn't win, the ESF women put up an impressive fight, especially for a first-year varsity team. Senior Kendra Nash and junior Althea Spencer kept the Mighty Oaks unruffled and focused with their tremendous defensive play.
The Mighty Oaks men finished the tournament Sunday, playing SUNY Canton, last year's third-seed NAIA Sunrise Conference playoff team. After a tough game, the ESF men were victorious against Canton with an impressive 2-1 win.
Once again, Volpe started the game strong with an early goal for the Mighty Oaks. Canton tied the score with a 40-yard direct kick that landed in the net early in the second half. Toward the end of the game, with a strong wind providing a challenge, senior Wyatt Jacobi scored on a diving shot, pushing the Mighty Oaks to a well-deserved win.
"As a first year varsity team in the NAIA," Ramin said. "This is a big win against an established SUNY Canton quality soccer program."
Both the men's and women's teams will play teams from Paul Smith's again this weekend. The women will play at noon at Onondaga Community College. The men will also play at 2 p.m., also at Onondaga.
Recent ESF News
News Archives
Communications & Marketing
SUNY-ESF
122 Bray Hall
1 Forestry Drive
Syracuse, NY 13210
315-470-6644