SHARE:
ESF Unveils Cornerstone for Residence Hall
Centennial Hall will house 452 ESF students

9/16/2010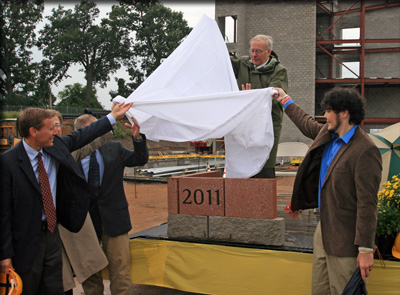 The SUNY College of Environmental Science and Forestry (ESF) today (Sept. 16, 2010) unveiled a commemorative cornerstone for its new student residence hall and formally named the building Centennial Hall in honor of the college's upcoming 100th anniversary.
Construction of the residence hall, scheduled to open in August 2011, marks a turning point in ESF's history: It is the first residence hall specifically for ESF students, who have, to this point, had access to on-campus housing only at neighboring Syracuse University.
"We are thrilled to be able to offer this new opportunity to our students," said ESF President Cornelius B. Murphy, Jr. "For our incoming students, Centennial Hall will ease their transition to college life. For all our students Centennial Hall will provide an enriched living experience and help them get more out of their ESF education. It also provides much-needed space as we continue to grow and expand our academic programs."
Despite a steady rain, students, faculty and staff members from ESF, along with representatives of local government and business partners, gathered under a tent at the construction site for the event. Murphy emphasized the effort that had gone into making the project a reality and the innovative elements that will make Centennial Hall environmentally friendly. Those elements can be integrated into classroom lessons, too, he said.
"This will help to write a rich, new chapter in ESF's history," Murphy said.
Brenda Greenfield, executive director of the ESF College Foundation, Inc., said Centennial Hall will strengthen the student community at ESF and make the college attractive to prospective students.
"It's very exciting for us," Greenfield said. "It's going to allow us to grow in ways we never thought were possible."
Construction of Centennial Hall, overseen by national student housing developer Allen & O'Hara and local contractor Hueber Breuer, began in May along Oakland Street, just west of the main ESF campus. The $31.4 million building is being constructed by the ESF College Foundation, Inc., which supports the college's educational mission. The foundation will operate the facility. "The ESF College Foundation has been working for seven years to develop this facility for ESF students. We are extremely excited to see this dream become a reality," said ESF College Foundation Executive Director, Brenda Greenfield. The work is funded by financing provided through the Onondaga Civic Development Corp. and TD Bank.
The 452-bed facility designed by WTW Architects of Pittsburgh and HKK Architects of Syracuse will house 280 freshmen and 172 upperclassmen.
Centennial Hall is being constructed from 184 modular units that are scheduled for delivery at the site through the fall. Andy Breuer, a principal at Hueber-Breuer believes this is the largest modular construction project that has occurred in Central New York.
One of the main advantages to modular construction is that it allows for less construction waste and fewer delays caused by weather. The modular units are expected to be assembled before the weather gets bad so work on the interior of the residence hall can be done through the winter. Landscaping and final exterior work are planned for the spring and summer of 2011, allowing ESF students to move into the building for the start of the fall semester.
The residence hall is planned as a silver-certified LEED building. The building's impact on the environment will be reduced by the use of storm water management techniques, sustainable building materials where possible, landscaping that includes native plants and a limited need to mow, extensive indoor bicycle storage and maintenance facilities and a pedestrian-friendly design. The building will provide a limited number of parking spaces for upperclassmen. ESF freshmen do not have cars on campus.
ESF students and staff, College Foundation representatives and other members of the college community gathered at the site this afternoon to celebrate the progress so far. The ESF Quality of Worklife Committee contributed to the festivities by holding its annual ice cream social at the site after the cornerstone was unveiled.
Recent ESF News
News Archives
Communications & Marketing
SUNY-ESF
122 Bray Hall
1 Forestry Drive
Syracuse, NY 13210
315-470-6644