SHARE:
SUNY Launches Early College High Schools
ESF joins partnership with city of Syracuse, Onondaga Community College

9/16/2010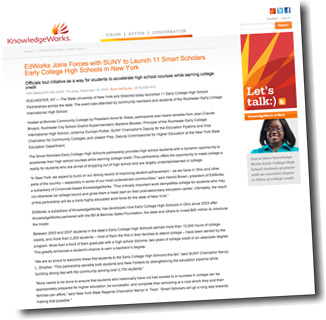 The State University of New York and EdWorks today launched 11 Early College High School Partnerships across the state, including one that includes ESF, the Syracuse City School District and Onondaga Community College.
The launch was held at Monroe Community College. The Smart Scholars Early College High School is making college a reality for students who are at-risk of dropping out of high school and are largely underrepresented in college. Students will get a jump-start on college by earning college credit while they are still in high school.
"We are so proud to welcome these first students to the 11 Early College High Schools across New York this fall," said SUNY Chancellor Nancy L. Zimpher. "We are also pleased to be celebrating the launch of the Early College High Schools in Rochester. These partnerships are an important part of SUNY's commitment to strengthening the education pipeline in the greater Rochester area and in regions throughout the State."
Harold Brown, president of EdWorks, a subsidiary of Cincinnati-based KnowledgeWorks, who is partnering with SUNY on the implementation of the 11 Early College High Schools, said he is excited about the partnership as well. "In New York, we expect to build on our strong record of improving student achievement - as we have in Ohio and other parts of the country -- especially in some of our most underserved communities," Brown said. "This critically important work demystifies college for students who may not otherwise be college bound and gives them a head start on their post-secondary education career. Ultimately, the result of this partnership will be a more highly educated work force for the state of New York."
"The Smart Scholars Early College High Schools will benefit over 2,700 students across the State and has the potential to be a leading model for transforming education and maximizing student success," said Duncan-Poitier. "We are grateful for the generous support provided by the Bill & Melinda Gates Foundation through a grant to the University of the State of New York that has made this opportunity possible."
"The Smart Scholars program is unique because it helps us approach education in a more integrated way, utilizing the tremendous resources available throughout the State, including the State University of New York, for the education of our students," said Education Commissioner David Steiner.
In addition to the Syracuse partnership, the other 10 Smart Scholars Early College High Schools partnerships are:
Rochester City School District, Monroe Community College and the Asia Society
Buffalo City School District, Erie Community College and D'Youville College
City School District of Albany, Hudson Valley Community College, the University at Albany, and Rensselaer Polytechnic Institute
Greater Amsterdam Central School District and Fulton-Montgomery Community College
Roosevelt Union Free School District and the SUNY College at Old Westbury
Schenectady City School District and Schenectady County Community College Yonkers City School District and Westchester Community College
Yonkers City School District and Westchester Community College
Bard High School Early College and Bard College in New York City
Freeport Central School District and Long Island University, C.W. Post Campus
City Polytechnic High School of Engineering and the New York City College of Technology
Recent ESF News
News Archives
Communications & Marketing
SUNY-ESF
122 Bray Hall
1 Forestry Drive
Syracuse, NY 13210
315-470-6644