SHARE:
Service Projects Send Students into Community
300 students clean parks, stream as part of Saturday of Service

9/28/2010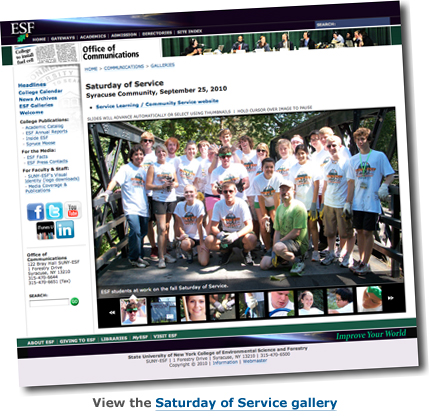 About 300 new ESF students spent the first Saturday of their college years doing volunteer work in the Syracuse area as part of the College's seventh annual Saturday of Service.
The students spread out to do improvement projects in Syracuse city parks, along Onondaga Creek, at Carpenter's Brook Fish Hatchery, and in local New York state parks.
"What made the day so special and different for me was how positive and eager all of our freshmen and orientation leaders were," said Liz Mix, ESF's community service and service-learning coordinator. "They accomplished more than we had planned for, and some of the groups stayed longer at the sites by choice to finish the work."
Mix, who coordinated the effort through the ESF Office of Student Activities in partnership with Syracuse, Onondaga County and New York state parks, said the students' participation was extraordinary:
' Several freshmen jumped into Onondaga Creek fully clothed to pull debris, including a shopping cart, from the water.
' Students cleared so much brush and debris from Robinson Street and Sherwood Avenue at Lincoln Park that a senior citizen who lives nearby came out and said she was happy to see the sidewalk; she made repeated trips to her home to bring the students fresh drinking water.
' At Schiller Park, students removed piles of garbage and enjoyed the company of neighborhood children who came out to help them.
The students' work earned praise from partners in the community.
"I can't tell you how thrilled we are about the work your students accomplished on Saturday," said Miranda Hine of the Thornden Park Association.
The park is the location of the popular E.M. Mills Rose Garden and brick pathways that curve through the scenery.
"The most exciting accomplishment was the unearthing (literally) of the brick paths. Probably the reason I am so excited about this is because we never get to the paths. We are always kept busy by weeding! Your students managed to expose more than half of the walks around the Lily Pond. Half the mulch pile got distributed and lots of trash was collected," Hine said.
The work at Schiller Park got a similar reaction from Nick DeMartino of the Friends of Schiller Park. He told Mix: "Your students did an absolutely fantastic job and all their fine work is much appreciated! These are exactly the types of partnerships we hoped would be created when we formed the park association, and we hope that this can continue in the future. "
Recent ESF News
News Archives
Communications & Marketing
SUNY-ESF
122 Bray Hall
1 Forestry Drive
Syracuse, NY 13210
315-470-6644