SHARE:
Feinstone Award Celebrates Native Visions
Lew and Dawn Allyn, directors of Allyn Family Foundation, receive Honorary Feinstone Award

10/5/2010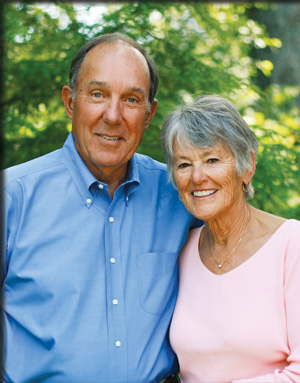 The SUNY College of Environmental Science and Forestry (ESF) will celebrate Native visions for a sustainable future during its 2010 Feinstone Environmental Awards dinner.
The directors of the Allyn Family Foundation, Lew and Dawn Allyn of Skaneateles, will receive the Honorary Feinstone Award. The Allyns' fascination with the natural environment and enjoyment of the outdoors led them to an interest in Native American traditional ecological knowledge. That interest grew into support for the Center for Native Peoples and the Environment at ESF.
The Allyns are leading supporters of the center and have provided major support for community intern projects at both the Onondaga and Tuscarora nations.
The award will be presented Oct. 21 at a dinner at the Sheraton Syracuse University Hotel & Conference Center.
The dinner's keynote speaker will be Henry Lickers of the Mohawk Council of Akwesasne. Lickers is a member of the Seneca Nation, Turtle Clan, and is the director of the Department of the Environment for the Mohawk Council of the Akwesasne. He has been instrumental in incorporating First Nation's people and knowledge into environmental planning and decision making. Master of ceremonies for the event will be radio personality Jim Reith of 570 WSYR, host of The Jim Reith Show.
The Feinstone Awards program was established by Sol Feinstone, a widely known historian and author who was a graduate of ESF. His goal was to reward people and organizations that exemplified his belief that the best insurance for a free society lay in people's desire to do voluntarily the things that need to be done for the good of all.
The program recognizes leaders who care for the environment, encourage volunteerism and add to society's understanding of environmental issues and their solutions. The Feinstone program has made more than 100 awards, honoring people from across the United States for their significant contributions to protecting the environment and promoting the spirit of volunteerism.
Recent ESF News
News Archives
Communications & Marketing
SUNY-ESF
122 Bray Hall
1 Forestry Drive
Syracuse, NY 13210
315-470-6644