SHARE:
Centerpiece Tower Installed at Centennial Hall
56-foot wood column set in place at residence hall

10/7/2010
The video associated with this story has been removed. Contact web@esf.edu if you need further information.
Two years after graduating from ESF with a degree in construction management, Dave Emmi CMWPE '08 returned to campus to watch as a construction crew installed a 56-foot timber-frame column at the entrance to the College's first residence hall.
Emmi felt a strong connection to that step of the construction project: He is a Syracuse native. He still lives in the area. The company he works for is a subcontractor on the construction project. And Emmi himself did the engineering work on the column that will grace the entrance to ESF's new Centennial Hall.
"This is great. This is what I'm here for," said Emmi as members of the construction crew worked with a crane that was brought in for the installation. "Typically, I don't go to raisings. But this is what I went to school for."
Emmi is a project engineer and project manager with New Energy Works of Farmington, N.Y., near Canandaigua in the Finger Lakes region. Based on an architect's design, he did the engineering work on the column. The 12-foot-by-12-foot column is made from Douglas fir secured with ash pegs and weighs more than 24,000 pounds.
Emmi said the all-wood construction of the tower and its expected longevity makes that part of the project sustainable.
"It's here forever," he said.
The residence hall will also feature Douglas fir roof overhangs and an entrance trellis made from western red cedar adjacent to the recently installed column.
"It looks like a really cool grape trellis but it's obviously much bigger," Emmi said. "There will be hand lettering on it that says, 'Centennial Hall.' The lettering's a gift from New Energy Works saying, 'Thank you.'"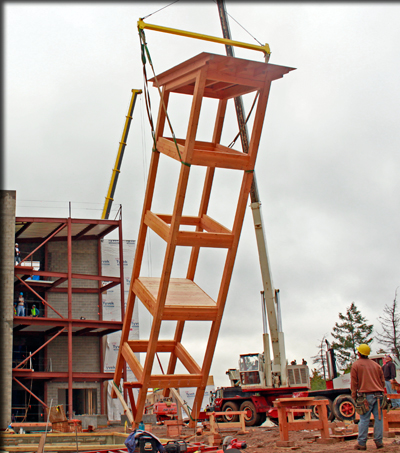 Centennial Hall is scheduled to open in August 2011. It is the first residence hall specifically for ESF students, who have, to this point, had access to on-campus housing only at neighboring Syracuse University.
Construction began in May along Oakland Street, just west of the main ESF campus. The $31.4 million building is being constructed by the ESF College Foundation, Inc., which supports the college's educational mission. The foundation will operate the facility.
The 454-bed facility will house 280 freshmen and 174 upperclassmen.
The residence hall is planned as a silver-certified LEED building. The building's impact on the environment will be reduced by the use of storm water management techniques, sustainable building materials where possible, landscaping that includes native plants and a limited need to mow, extensive indoor bicycle storage facilities and a pedestrian-friendly design.
Recent ESF News
News Archives
Communications & Marketing
SUNY-ESF
122 Bray Hall
1 Forestry Drive
Syracuse, NY 13210
315-470-6644