SHARE:
Alumni Return to ESF for Fall BBQ
Graduates reflect on changes at ESF

10/18/2010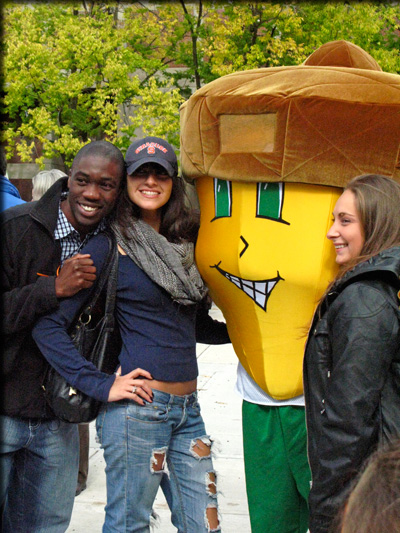 Alumni, parents and students spent the third weekend in October enjoying the campus, food and memories at the ESF Alumni and Family Fall BBQ. Alumni reminisced about their days at ESF and reflected on the changes happening on campus. Despite rain late in the week, the weather was sunny and cool, allowing those in attendance to explore the campus and enjoy fall in Syracuse.
The event also brought back many members of the Class of 1985 in celebration of their 25th reunion.
"One of my best memories is the teaching," said Juan Arteaga ERE '85. "I'm glad to have been taught by people with a lot of knowledge. It stays in my mind forever."
The most striking difference between his time at ESF and now are the new buildings on campus and the refurbished roads around Syracuse, Arteaga said.
The new buildings, along with less parking and ESF's newly formed sports teams, are the biggest changes for Geoff Reed FRM '85.
ESF sports "are great," Reed said. "It's good that we have our own identity, separate from SU."
Reed said his favorite memory from his time at ESF was spending a semester taking classes and doing field work at the Heiberg Memorial Forest in Tully, N.Y., during his junior year.
Curtis Ecklund FRM '85, MS '92. said friendship, field experience and learning are the most memorable aspects for him and if he had the chance to change anything, he would.
"I'd probably get more involved and if there were more opportunities like sports, I would have played if they had them," Ecklund said.
Others agreed and said they would have participated in sports as well.
"I think it's great," said Vinny Turner, who attended ESF in '83 before transferring. "If I were to do it all over, I would have been on the golf team."
Like Ecklund, Turner said field experience was one of his favorite memories, especially spending time working under the auspices of the Roosevelt Wild Life Station at the Adirondack Ecological Center in Newcomb, N.Y.
Times have changed even more dramatically for alumni who attended ESF more than 40 years ago, when it was still known as the New York State College of Forestry at Syracuse University.
"Half of us were actually studying forestry," said Bob Koppe WPE '65. "All of the environmental stuff came after I left. Obviously, the school had to evolve with the world."
When Koppe was studying forest land management and wood products engineering in the 1960s, there weren't many women pursing forestry.
"There were only two or three women in my class," said Koppe.
Koppe went on to get his master's degree at the University of Ohio, worked on post-doctoral studies at the Massachusetts Institute of Technology and ended up having a career as a nuclear power plant engineer.
Koppe said ESF's switch from its unofficial nickname, the Stumpies, to the Mighty Oaks is bittersweet, but he was ultimately won over by the new mascot, Oakie the acorn.
"Stumpies had a certain ring to it," Koppe said. "There's something whimsical about an acorn as a mascot."
This year's event had a larger turnout than that of previous years, with record numbers of attendance at all events.
More than 650 people attended the barbecue, compared to 590 people last year, and 450 people reserved tickets for the Syracuse University-University of Pittsburgh football game, compared to 320 people last year. The last event of the weekend, the Taste of Central New York reception, also had an increased reservation of 250 people, compared to 139 reservations last year.
"In my 32 years here, we have never sold so many football tickets," said Justin Culkowski, director of alumni relations.
The increased attendance rates can be attributed to the success of last year's barbecue and the SU football team, Culkowski said.
"Alumni like to see a good, winning team, and it has been a long time since we had a winning football team," Culkowski said.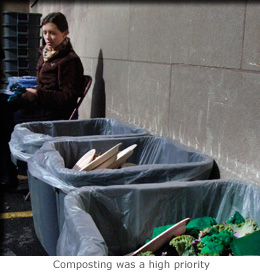 This year's barbecue was the first to feature a compostable meal, including biodegradable plates, cups and utensils, said Meagan Pepper ES '12, a member of the Green Campus Initiative, which organized the composting.
"It's the first time we've done this with the alumni," Pepper said. "I think they're really surprised, and the only thing they are trashing is relish packets."
Parents said they appreciated the efforts taken to lessen the event's environmental impact.
"I admire the students' efforts to keep it green," said David Needleman, the parent of a freshman environmental science major. "The fact that they are composting everything that can be composted shows the college is making an effort."
By Jessica Lynn Siart ES '12
Recent ESF News
News Archives
Communications & Marketing
SUNY-ESF
122 Bray Hall
1 Forestry Drive
Syracuse, NY 13210
315-470-6644