SHARE:
ESF Golfers Receive National Awards
One golfer earns All-American status in USCAA; teammate joins Academic All-Americans

10/21/2010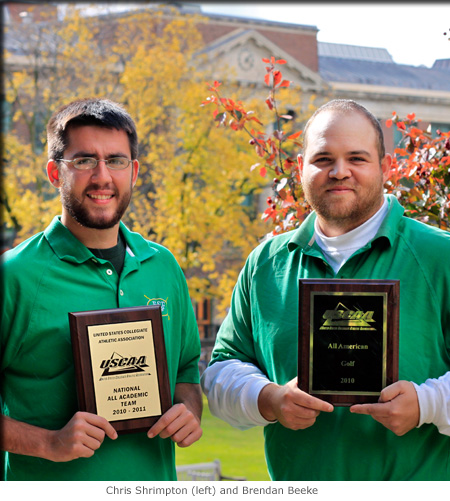 Two members of the Mighty Oaks golf team were honored with national awards as the golf team wrapped up its first season of official intercollegiate play with a seventh-place finish in the U.S. Collegiate Athletic Association Men's National Championship.
Senior Brendan Beeke received All-American honors after placing in the top six in the tournament's field of 88 golfers. Senior Chris Shrimpton was named to the Academic All-American team, which includes only golfers with a cumulative GPA of 3.5 or higher.
The two-day event, with the golfers playing 36 holes over two days, was held at the Pennsylvania State University Blue Course Oct. 10-12.
"It was truly something exciting to witness," said Coach John Turbeville.
It was the Mighty Oaks' first USCAA tournament. The USCAA was founded in 2001 to promote small-college athletics and provide national championship competition in 11 sports. Member institutions usually enroll fewer than 2,500 students. The organization is made up of 73 institutions in 24 states and is still growing.
Competing in a national competition allowed the golfers to challenge themselves and improve their performance, Turbeville said.
"They really played well the second day," said Turbeville. "They shot 319 as a team which was the lowest four-person score the team has had since it was formed in 2007."
The tournament-winning Rochester College team was the only team with a lower score on the second day.
In addition to being named an All-American, Beeke was tied as the player with the lowest score on par threes in the tournament, playing at plus one on those holes. Beeke and junior Matt Dennis tied for ninth-lowest score on par fours in the tournament, both playing at plus eight, and Beeke scored the fifth-highest amount of pars with 22 over the two days. He was only three pars behind the top par player, who had 25 total. Beeke and Dennis also lead the Mighty Oaks with four birdies each.
Dennis contributed to the team's success by tying for the lowest individual round on day two with a score of 74. Senior Bob Moesch greatly improved his game at the tournament when he shot an 82 on day two, 20 strokes better than day one.
"It was a great venue, it was a great location and it was run very well," Turbeville said. "I think the guys had a really great time."
Turbeville credited the team's success to natural ability, dedicated practice and the right elements falling into place.
"Being capable and actually doing it can be a struggle," he said. "This is really representative of what they can do. I couldn't be more excited for them."
While this tournament marks the end of the fall season, the Mighty Oaks golfers will resume playing in the spring and are looking forward to the ESF Invitational.
"As a whole, it was a very good fall season," Turbeville said. "While we didn't win an event, which I know we are capable of, I couldn't be more thrilled with how the team has played."
Recent ESF News
News Archives
Communications & Marketing
SUNY-ESF
122 Bray Hall
1 Forestry Drive
Syracuse, NY 13210
315-470-6644