SHARE:
ESF Donates Denim for Recycling Project
Jeans will be converted to housing insulation for communities in need

10/21/2010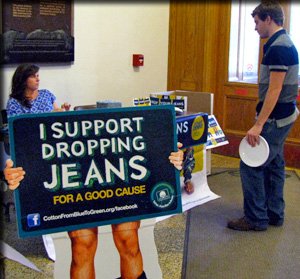 Students at ESF are parting ways with their old pairs of jeans as part of a national effort to bring attention to sustainable housing construction.
The denim drive is part of Cotton Incorporated's campaign, "Cotton. From Blue to Green," which converts donated jeans into sustainable, natural-fiber housing insulation to be used by Habitat for Humanity. ESF launched its participation in the campaign Wednesday with an event in Marshall Hall featuring promotional Frisbees and shirts and informational pamphlets.
"It's great that it's being used for insulation," said Autumn Elniski, a freshman paper engineering major, who donated an old pair of jeans. "It's a good substitute for things that aren't biodegradable and it's a good way to recycle so we don't have to keep making things that are bad for the planet."
Green Campus Initiative, a student organization that aims to promote sustainability at ESF, led the effort to bring the campaign to ESF and will oversee the collection events and donation bin maintenance on campus until the campaigns ends Oct. 31.
Cotton Incorporated only invited five universities to participate in the campaign and although ESF wasn't one of them, Syracuse University reached out and offered to collaborate with ESF to reach its goal of 750 pairs of jeans. SU has already collected more than 400 pairs during October through collection events and donation bins located around campus.
"It just seemed like a perfect opportunity," said Shaylyn Decker, a senior environmental studies major and president of GCI. "(SU) provided us with all of the promotional products and collection bins. It was so easy it seemed silly not to do it."
GCI will host two more collection events and end the campaign with the "Drop Your Jeans on the Quad" event on the ESF Quad.
It takes 500 pieces of denim to insulate a house and Habitat for Humanity has already used the natural fiber, called UltraTouch Cotton insulation, in 500 new houses in communities in need, said Andrew Dorr, a senior environmental studies major and energy coordinator of GCI.
Elniski said she hopes more schools and communities will take ESF and SU's lead and incorporate recycling and sustainable materials into construction projects.
"ESF is a role model for environmental responsibility in New York," Elniski said. "Hopefully it will be integrated into the community."
Although the turnout for Wednesday's event was smaller than expected, with only a few people donating, Decker said she thinks donations will increase once the campaign gets more attention on campus.
"We have about two weeks," Decker said. "I think once we get the word out and people learn where the collection bins are, things will pick up."
Recent ESF News
News Archives
Communications & Marketing
SUNY-ESF
122 Bray Hall
1 Forestry Drive
Syracuse, NY 13210
315-470-6644