SHARE:
ESF Runners Earn Honors at USCAA Meet
Women place second; men place fifth

11/9/2010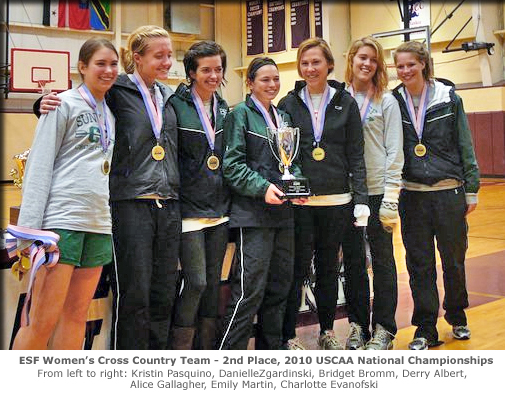 The Mighty Oaks men's and women's cross-country teams competed in their first U.S. Collegiate Athletic Association Championship Nov. 5, placing well and garnering national honors in the process.
The women placed second among 18 teams and the men placed fifth among 16 teams.
Freshman Danielle Zgardzinski was honored as an All-American for her performance in the race. Four of her teammates were recognized as Academic All-Americans because of their academic accomplishments. Those students were sophomores Kristin Pasquino and Matt Allen and juniors Owen Hunter and Mike Miles.
The ESF women ran in the 6-kilometer race at the event, which was marked by rainy and snowy weather and muddy conditions at New Hampshire Technical Institute in Concord, N.H. The competition featured teams from New Mexico, Kentucky, Virginia, Pennsylvania, Vermont, Indiana and New York. The ESF women finished second behind the defending champions from St. Mary of the Woods College in Indiana. The Mighty Oaks were lead by Zgardzinski, who had the seventh-place finish overall. She was followed by Derry Albert, freshman, 17th; Pasquino, 22nd; Charlotte Evanofski, sophomore, 23rd; Emily Martin, sophomore, 24th; Bridget Bromm, sophomore, 36th; and Alice Gallagher, sophomore, 42nd.
"These women performed superbly and contributed to excellent team effort," said Coach Jim Goulet.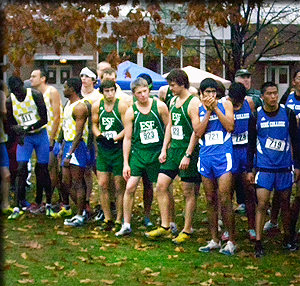 The ESF men competed in the 8-kilometer race against 16 talented teams from across the country. The Mighty Oaks men finished fifth in the race, which was won by Spaulding University from Kentucky. ESF was lead by senior Luke Grasmeyer, who finished in 10th place overall. He was followed by Colin Bartholomew, sophomore, 23rd; John Swass, sophomore, 26th; Miles, 42nd; Matt DeLuca, freshman, 45th; Ian McLaughlin, sophomore, 57th; and Allen, 67th. The men exhibited a great effort for their first time at a USCAA race, Goulet said.
Recent ESF News
News Archives
Communications & Marketing
SUNY-ESF
122 Bray Hall
1 Forestry Drive
Syracuse, NY 13210
315-470-6644