SHARE:
ESF Tests Unique Home Heat/Power System
Climate Action Plan drives installation of freewatt system

11/11/2010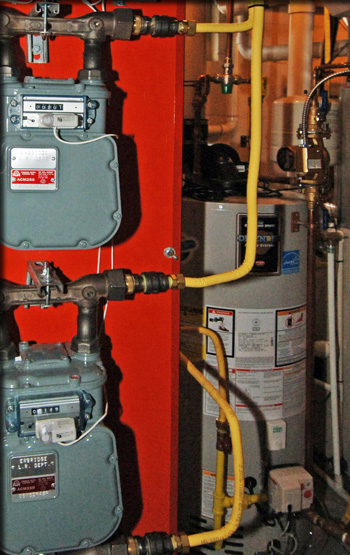 ECR International™, a designer and manufacturer of hydronic and HVAC equipment, announced its partnership with National Grid and the SUNY College of Environmental Science and Forestry (ESF) to install a freewatt' plus home energy system into the ESF College Residence, home to College President Cornelius B. Murphy, Jr.
The announcement was made at a news conference Tuesday, Nov. 9, at the College Residence near the ESF campus. Halco Plumbing & Heating of Phelps, N.Y., installed the system.
Installation of freewatt plus was driven by the SUNY-ESF Climate Action Plan.
"We are pursuing a variety of sustainable energy technologies as part of the College's efforts to become carbon neutral by 2015," said Michael Kelleher, ESF's director of renewable energy systems. The Climate Action Plan uses a combination of renewable energy projects, sustainable construction, energy conservation and managed forestland to achieve the carbon neutral goal.
"ECR is excited to help SUNY-ESF achieve its sustainability goals," said Mike Paparone, ECR president and chief executive officer. "By installing the freewatt plus system, the home's annual environmental impact can be reduced by up to 6,000 pounds or more of greenhouse gases."
The system operates using micro-combined heat and power (microCHP) technology, which uses an ENERGY STAR-rated, high-efficiency gas furnace or boiler combined with a Honda engine/generator to generate heat, producing electric power as a byproduct.
"The electricity generated by the freewatt plus system can be used to power the college residence or can be sold back to the electric grid," said Paparone.
Operating at 95 percent efficiency, freewatt plus also provides continuous, low-level heat without the temperature swings and cycling associated with a traditional heating system, creating constant comfort. Additionally, freewatt plus provides back-up power in the event a home loses power, such as during a bad winter storm or emergency.
"National Grid supports forward-thinking energy technology," said Edward White, vice president of Energy Products at National Grid. "We are pleased to be a part of this innovative effort that explores emerging energy efficient technologies that provide new options and products for customers to manage their energy usage."
Recent ESF News
News Archives
Communications & Marketing
SUNY-ESF
122 Bray Hall
1 Forestry Drive
Syracuse, NY 13210
315-470-6644