SHARE:
Recycled Art Raises Awareness about Waste
Student create pieces aimed at reducing plastic waste

11/16/2010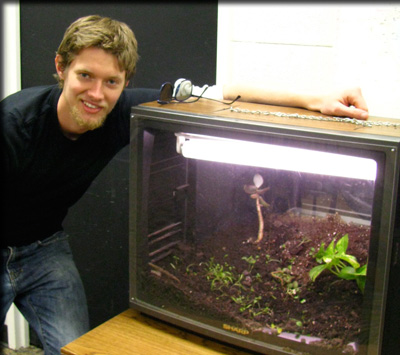 ESF students evoked their inner artists last week in an art exhibition made up of pieces created from plastic waste, some of which was found on campus.
Sandra Ficula, a senior environmental studies major, had the idea for a recycled plastic art project after seeing how much plastic waste was present at ESF during a Green Campus Initiative waste audit.
"There was a lot of recycling in the trash and a lot of people weren't sorting trash even though this is an environmental school," said Ficula, who created a hippo sculpture for the exhibit.
While people are responsible for the amount of plastic waste, the recycling system at all levels is also part of the problem, she said. The system's infrastructure is inadequate and needs to be reevaluated and even then, it still might not help the problem Ficula said.
"I don't really know what the solution is, though, because it takes a lot of energy to convert the recycled things to new products," Ficula said. "It's better to up-cycle than recycle."
Ficula said she wanted to incorporate art into the ESF community because it would be a good complement to the strong scientific mindset at the College.
Aside from the GCI waste audit, Ficula said she was fueled to start the exhibit in Moon Library after learning about plastic and its negative affects on people and the environment.
She said she was shocked to learn about carcinogenic properties of plastic and the growing impact of the Great Pacific Garbage Patch, an area of the Pacific Ocean polluted by small pieces of plastic and sludge that have been dumped in the ocean. Most of the trash is from land-based sources.
"You'd think that because it's in the ocean it would come from the ocean off of barges," said Adriana Beltrani, a senior environmental studies major.
One of the pieces in the exhibit proved to be a challenge for its creator.
John Summers, a senior conservation biology major, was trying to remove the cathode ray tube from an old television when the tube shattered.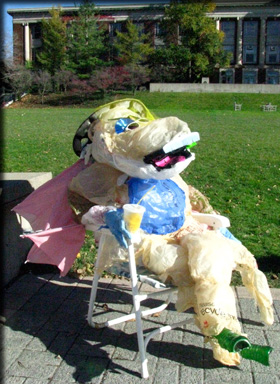 After learning that recycling centers charged a fee to recycle TVs, Summers said he and a friend decided to give the television a new life. They turned the TV into a biosphere, complete with soil and plants, which required that they removed the cathode ray tube. As they began to dismantle the TV, it imploded.
Summers said he will never try to dismantle a television again, but the project was worth it because it allowed him to explore his creative side.
"You can still have an original idea; not everyone has done something like this," Summers said. "I have almost no artistic bones in my body but you can still create original works of art and feel good about it afterword."
Because he's graduating this year, Summers said he hopes to pass the piece along to one of his friends so they can improve on the design and perhaps incorporate animals, such as toads, into the biosphere.
Summers said that while the project helped him learn more about himself, it also represents a larger message about the amount of things that are thrown away.
"There's no words coming out of it," he said. "But I think it speaks very loudly."
- by Jessica Lynn Siart ES '12
Recent ESF News
News Archives
Communications & Marketing
SUNY-ESF
122 Bray Hall
1 Forestry Drive
Syracuse, NY 13210
315-470-6644