SHARE:
On the Menu: Woodcock and 'a Ton of Venison'
Beast Feast puts game on the table

5/6/2016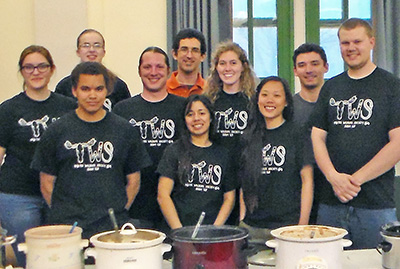 Once a year the Wildlife Society at ESF hosts the Beast Feast, a dinner that allows students, faculty and members of the community to sample a variety of local game, ranging from woodcock to squirrel.
The 2016 Beast Feast, which was the sixth annual event, was held on Earth Day in Nifkin Lounge. The dinner is a fundraiser for the student chapter of the national Wildlife Society, an organization for wildlife professionals. The event includes a raffle, quiz bowl, silent auction, a collection of homemade dishes and, this year for the first time, a live band. Attendance sometimes tops 150.
The focus of the Beast Feast is the food. Some participants volunteer to cook while others donate meat. Leah Samson, an ESF junior and the president of the Wildlife Society, said the organizers have received a variety of meat: "woodcock, a ton of venison, moose, beavers and squirrels." The event also includes non-meat dishes to accommodate vegetarians and vegans. Heather Swenson, a senior majoring in wildlife science said there is something for everyone.. The dinner always features voting for the best dish. Woodcock curry has been among the winners and Samson's squirrel pizza has also proved popular.
This fundraiser also features a silent auction with items donated by different artists, including Women in Nature, part of the Onondaga County Federation of Sportsmen's Clubs.
Members of the faculty have donated opportunities for unique experiences, such as searching for salamanders with Dr. James Gibbs of the Department of Environmental and Forest Biology. Samson said the dinner gives students a chance to socialize with faculty members and build relationships that go beyond the classroom.
Funds raised this year will support club members' trip to a professional conference in Maryland.
- By Yocasta Pichardo, ES '16
Recent ESF News
News Archives
Communications & Marketing
SUNY-ESF
122 Bray Hall
1 Forestry Drive
Syracuse, NY 13210
315-470-6644