SHARE:
Heather Carl Named SUNY Scholar-Athlete
Junior soccer player also succeeds in the classroom

5/9/2016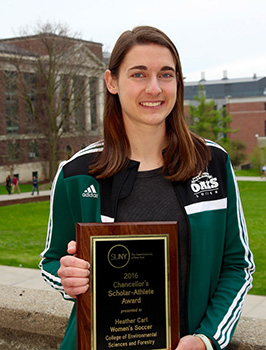 Heather Carl, a junior from Greenville, New York, has received the prestigious 2016 SUNY Chancellor's Scholar-Athlete Award.
Carl, a member of the Mighty Oaks women's soccer team, is majoring in natural resources management. She was named a USCAA Academic All-American (student-athletes with an overall GPA of 3.5 or higher) in both 2014 and 2015. This summer, she will work as an intern with the National Forest Service at Pike National Park in Colorado.
Because of her performance on the soccer pitch, Carl was named a USCAA first-team All-American in 2015 and 2016. She led the Mighty Oaks with 15 goals during the 2015 season. She was named a team captain for the upcoming 2016 season as she hopes to lead the squad back to the USCAA national tournament in November.
Student athletes are nominated for the chancellor's honor by their campus athletic director. Their credentials and accomplishments are reviewed by a panel of athletic directors from across SUNY as well as the provost's office.
Recent ESF News
News Archives
Communications & Marketing
SUNY-ESF
122 Bray Hall
1 Forestry Drive
Syracuse, NY 13210
315-470-6644