SHARE:
ESF Graduate Joins Teach for America
Peter LeDuc finds passion for teaching at ESF

6/2/2016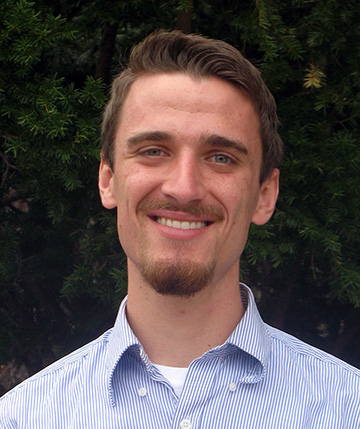 Peter LeDuc didn't come to ESF to become a teacher, but it is where he found his calling to educate the next generation.
LeDuc, who graduated in May with a degree in environmental biology, was accepted into Teach for America, a national nonprofit working to expand educational opportunities for low-income students. Corps members commit to teach for two years in high-need urban or rural public schools.
LeDuc will begin teaching in Milwaukee, Wisconsin, in August. Prior to that, he will spend five weeks of intense training at the program's National Institute in Houston, Texas. "I'll be teaching summer school during the day and taking classes at night (toward a certification and master's degree)," LeDuc said.
Teach For America works in partnership with communities to expand educational opportunity for children facing the challenges of poverty. Founded in 1990, Teach For America recruits and develops a diverse corps of outstanding college graduates and professionals to make an initial two-year commitment to teach in high-need schools and become lifelong leaders in the movement to end educational inequity.
"I didn't come to ESF specifically to be a teacher," said LeDuc, a native of Canton, Connecticut. "I've always considered it, though. I was able to take education courses at Syracuse University and that helped a lot."
"Seeing the passion Teach For America has for educational equality drew me to it," he said. "During my time at ESF I've been motivated by my Christian faith to serve the vulnerable." Teach For America provides the opportunity to "show students they're valued and give them the chance to succeed," he added.
During his years at ESF, LeDuc was active in the Baptist Campus Ministry on the SU campus, where he participated in a number of community service projects including working with at-risk youth in New York City. "It was a great learning experience and gave me a passion for serving the vulnerable."
LeDuc will be teaching middle school or high school science in Milwaukee. "Hopefully it will be biology at the high school level," he said, but he won't know until he interviews with the public schools to determine the best fit.
LeDuc encourages students to find what they're passionate about while at ESF. "What you invest your time in now sets patterns for what you'll invest your time in after ESF."
"There's a phrase we use a lot at ESF: 'I've adulted today," he said. "I think it's a silly phrase. We're adulting every day. We're always shaping who we are - every day."
"Our corps members and alumni have made a meaningful impact with their students and communities over time," said Elisa Villanueva Beard, co-CEO of Teach For America. "I can't wait to see the leadership, passion, dedication, and innovation this year's corps will bring to their classrooms nationwide."
Recent ESF News
News Archives
Communications & Marketing
SUNY-ESF
122 Bray Hall
1 Forestry Drive
Syracuse, NY 13210
315-470-6644