SHARE:
ESF Student Finalist for Olmsted Scholar Award
Kathryn Chesebrough recognized for academic excellence

6/7/2016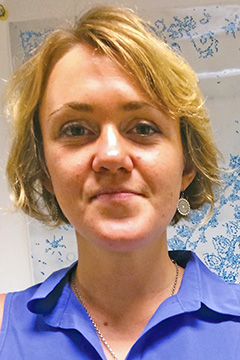 Kathryn Chesebrough, a recent graduate of the SUNY College of Environmental Science and Forestry (ESF), was a finalist for the National Olmsted Scholar award. The award is presented by the Landscape Architecture Foundation (LAF).
A May 2016 graduate, Chesebrough of Binghamton, New York, earned a bachelor of landscape architecture degree.
While at ESF, her studio projects included "hope+certainty," strategies for biodiversity in blighted communities, and "work+spectacle," bringing events and creating a working landscape at a historic site.
She led the Red Cup Project in picking 17,500 party cups off university neighborhood streets. Some of the cups were used to create spheres that were displayed on campus to raise awareness for sustainability and environmental issues with art. Her off-campus thesis focused on the dynamics of an innovative school being developed by an international artist in a favela of Rio de Janeiro, Brazil.
Chesebrough will be working for a landscape architecture firm in Ithaca, New York, following graduation.
The Olmsted Scholars Program is the premier national award and recognition program for landscape architecture students. Award finalists receive $1,000. An independent jury of leaders in the landscape architecture profession selected the winners and finalists from the group of 45 graduates and 32 undergraduates who were nominated by their faculty for being exceptional student leaders.