SHARE:
Student's Project Dishes Up Food to Those in Need
Internship creates opportunity for ESF sophomore

6/7/2016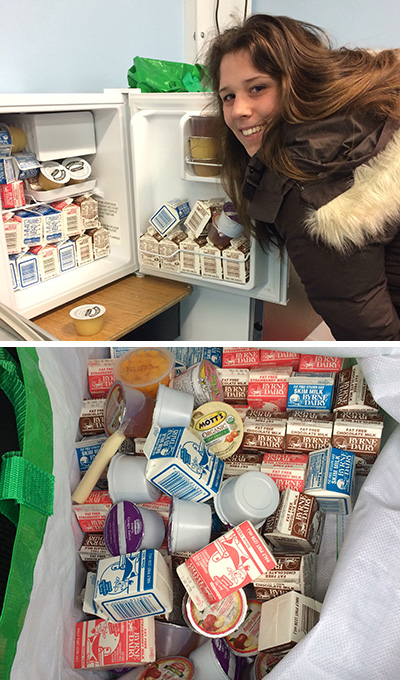 By Margaret McCormick
Samantha Moore Guillaume still has two years to go before she graduates from ESF with a degree in sustainable energy management. Already, the wheels are turning and she is thinking about career options. She might do a pre-law track and become a sustainability/environmental lawyer.
"But I would also love to have a job where I can continue doing what I am now,'' Guillaume said. "My ultimate goal in a career path would to be continue helping the community and implementing ideas surrounding my projects on a larger scale. I want everyone to know what a huge difference sustainable practices can make.''
During the spring semester, Guillaume was busy laying the groundwork for her future via the internship program she created and implemented through the Syracuse Center of Excellence. Her work as an intern is part of the Sustainable Materials Management Stewards program.
Bright and early each Monday and Thursday, Guillaume headed out to Enders Road Elementary School in Manlius, where she collected unopened packaged food from the school cafeteria, including milk, juice boxes, and applesauce and fruit cups, and placed them in a big, insulated bag. Guillaume had set up a small refrigerator in the school cafeteria - the kind many college students have in their dorm room - where school officials and cafeteria workers could stash pre-packaged food that had been served to children but not opened. During each visit to the school, she counted the items then organized and packed them for donation.
Next was the five-minute drive to Fayetteville-Manlius Community Outreach. The non-profit organization in the village of Manlius serves residents of the F-M community who are in need of food, clothing and services. "Milk is a staple we all have in our refrigerators, but most people who donate to food pantries don't donate milk,'' Guillaume said one Monday while making her rounds. On that day, she collected 68 food items - 47 containers of milk, 18 containers of applesauce and three juice boxes.
Guillaume credits Enders Road Elementary Principal Deborah L. Capri with helping her "work out kinks in the project and make it a smooth and easy process.'' Prior to her involvement with the school, Guillaume said, "all of this was just getting thrown out. I had heard about this happening and wanted to do something. ... I count it to keep track of how much food we are saving from being dumped in the garbage. I average about 50 food items in just one collection day.''
Capri said she was thrilled when Guillaume reached out and expressed interest in exploring ways to reduce waste and donate excess food from the cafeteria. "In a school district that prides itself on striving to be environmentally conscious, we have always struggled with the quantity of purchased food and beverages that then ends up just being unopened and thrown out,'' Capri said in an email. "Thus, Sam's idea was the perfect solution.''
Linda Napier, director of Fayetteville-Manlius Community Outreach, is grateful for and impressed by Guillaume's creativity, organization, commitment and follow-through. "She's amazing. She thought of this on her own and she goes above and beyond," Napier said. "She has built a system that is successful and makes total sense. ...The food items she brings us are being well received by our clients. They would not get milk otherwise.''
Guillaume, 19, grew up in Fayetteville and attended the elementary school she is now working with. "The fact that Samantha is an Enders Road graduate makes the experience even that much more special,'' Capri added. Guillaume's parents live in the school district, and she would usually stay with them on Sunday and Wednesday nights to save time and travel - and make her late-morning classes at ESF on time.
In addition to being a full-time ESF student, Guillaume is a member of the sorority Alpha Gamma Delta at Syracuse University and a member of the Syracuse University Club Softball team. "I find time for all of my activities and make sure that class comes first, but it can be a lot at times,'' she admitted. "I am taking some summer classes so I didn't have to overload credits this spring, which makes it a little easier.''
Guillaume also works part-time at a fast-casual restaurant and is concerned about the "ridiculous" amount of food that gets tossed out at the end of the day.
But collecting food and recycling it or packing food and delivering it for donation is a hassle for many in the restaurant industry, she added. "You have to really want to do it,'' she said.
Add restaurant food waste and efficient ways to reduce it to Samantha Guillaume's list of things to think about for the future.
Margaret McCormick is a writer and editor based in Syracuse.