SHARE:
ESF among the Best, Princeton Review Says
College earns spot on 'Green College Honor Roll'

9/2/2016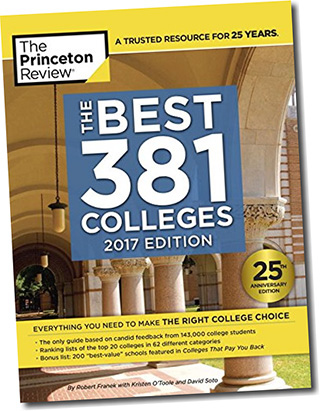 ESF is once again listed among the best colleges in the United States as reported by the Princeton Review.
The college holds a place in Best 381 Colleges for 2017 and earned a spot on the Princeton Review's "Green College Honor Roll." A total of 21 schools made the 2017 Green Honor Roll by receiving a score of 99 (the highest possible score) in Princeton Review's Green Rating tallies this year.
In the Best 381 publication, ESF also received particularly high rankings on three significant lists: No. 9 for Best College Dorms, No. 18 for Most Engaged in Community Service and a spot among the Top 50 Green Colleges. In addition, ESF is included on the lists of Best Northeastern Colleges and Colleges that Pay You Back.
The Princeton Review's annual college rankings lists are entirely based on what students attending the schools in the Best Colleges book say about their colleges and their experiences at them. The rankings lists are tallied based on the data from surveys of 143,000 students at the 381 schools in the book
Comments from ESF students ranged from broad praise to specific comments about facets on life on campus:
"Attending SUNY ESF means being surrounded by people who are passionate about the earth and science in general, while all having unique perspectives and interests to share."
"There's extremes here at ESF... It's likely that you'll see someone with bare feet, dreadlocks and a tie-dye t-shirt walking around campus, and there's people who dress in slacks everyday. The typical student is usually happily between the two extremes, and spends a lot of time in the library and/or the computer labs!"
With Syracuse University right next-door, ESF "has a great small school atmosphere," with "all of the perks of a big university."
"ESF is definitely the best 'bang for your buck.' I attended a private university prior, and I have paid for four years what one year costs there. And the courses are just as well taught."
Professors "set the bar high for expectations and keep it there. I'm consistently challenged and encouraged."
"SUNY ESF is a great school whether you love plants, animals, or the environment, and offers great opportunities for real world experience related to your field of study."
"The dorms are fantastic; the building was built in 2011 and all the rooms have private baths."
"ESF offers lots of activities including monthly free movies, breakfasts, presentations, ski trips, ice-skating, craft fairs, etc. We get weekly emails letting us know about all the events, and there's always something to do."
"Armory Square is a short bus ride away and offers some great off campus lunch and dinner options."
Students also praised ESF's ability to connect them with careers, saying the faculty helps students find jobs and internships, including dozens of paid summer internship with the New York Department of Environmental Conservation. They mentioned the annual Environmental Career Fair organized by Career Services and said their knowledge of the environment and the rigorous academics will get them "top-notch jobs and lives after college
Recent ESF News
News Archives
Communications & Marketing
SUNY-ESF
122 Bray Hall
1 Forestry Drive
Syracuse, NY 13210
315-470-6644