SHARE:
U.S. News Ranks ESF among the Best
College placed among 'Great Schools, Great Prices'

9/13/2016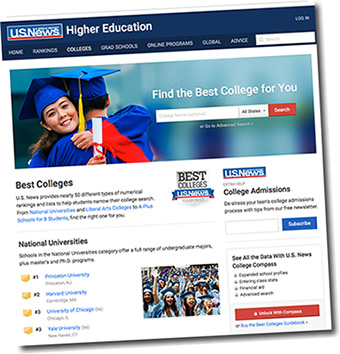 ESF has earned a place among the top universities in America for 2017, as ranked by U.S. News & World Report.
ESF is ranked number 99 on the Best National Universities list in U.S. News' 2017 edition of Best Colleges.
ESF was also recognized as one of the best college values in the nation, earning a ranking of 40 on the U.S. News "Great Schools, Great Prices" list. ESF is the only SUNY campus listed among 50 National Universities selected for this recognition.
The "Great Schools, Great Prices" list takes into account a school's academic quality, based on its U.S. News Best Colleges ranking and the 2015-16 net cost of attendance for a student who received the average level of need-based financial aid. The magazine states, "The higher the quality of the program and the lower the cost, the better the deal. Only schools in or near the top half of their U.S. News ranking categories are included because U.S. News considers the most significant values to be among colleges that perform well academically."
ESF is one of four SUNY schools that made the top 100 on the Best National Universities list. The others are Binghamton University, Stony Brook and Buffalo.
"We are pleased - but not surprised - that ESF has earned this national ranking in recognition of its outstanding programs and value," said college President Quentin Wheeler. "It affirms that ESF offers a high-quality education that is a great value for our students. The credit for our success must go to our faculty and students, whose dedication to excellence and the environment has a tremendous impact, and to the many outstanding scientists and academic leaders who helped create the foundation for the success we are now building."
The magazine says the National Universities category comprises 310 institutions (189 public, 114 private and seven for-profit) that offer a wide range of undergraduate majors as well as master's and doctoral degrees. Many of the nation's most prestigious research universities are ranked in this group.
According to U.S News & World Report, data on up to 15 indicators of academic quality are gathered from each institution and tabulated. Schools are ranked by total weighted score.
"The U.S. News & World Report rankings are a testament to the excellent programs and services provided by faculty and staff across SUNY, and a reminder to our current and future students that SUNY is dedicated to providing them with a highly valuable degree that will serve them well long after graduation," said SUNY Chancellor Nancy L. Zimpher. "Congratulations to ESF on this much-deserved recognition."
Recent ESF News
News Archives
Communications & Marketing
SUNY ESF
122 Bray Hall
1 Forestry Drive
Syracuse, NY 13210
Communications@esf.edu