SHARE:
Summer on the Farm
Fink Fellowship sends ESF junior to work on Thousand Islands farm

9/22/2016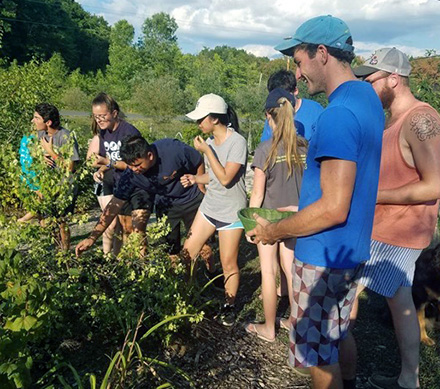 This past summer, Rand Michaels enjoyed leisurely bike rides, nightly swims and meals prepared from the freshest available ingredients. Such comforts were welcome after a hard day's work on the farm. As an intern at Cross Island Farms on Wellesley Island, New York, Michaels was exposed to the inner workings of a sustainable organic farming operation.
Michaels, an ESF junior majoring in environmental education and interpretation, grew up on a small organic farm in northern Michigan, where his family produced much of their own food. His upbringing fostered an early interest in the relationship between food and the environment. He attended high school in the Florida Keys and was drawn to ESF by his desire to study environmental science and experience a different part of the country.
"Living in Florida taught me that you've got to get out there and explore," explained Michaels. "I was looking at environmental schools and ESF kept popping up in my searches as one of the best."
Cross Island Farms is a 102-acre property in the Thousand Islands region of the Saint Lawrence River. Started in 2006 by owners Dani Baker and David Belding, the farm offers certified-organic pastured meats, eggs and all-natural, sustainably grown produce. Michaels was intrigued when he read about the farm in an ESF email listing summer volunteer opportunities. The farm's primary goals-to produce organic, sustainable, local, healthy food and emphasize community education and engagement-aligned with Michaels' interests and studies.
Michaels experienced firsthand the hard work, diligence and resourcefulness demanded of farmers who grow sustainable produce. "Working in such a dynamic environment was really challenging and eye-opening," he said. "You never really know what to expect or what jobs will need doing that day. You can't always predict the weather and its effects or be sure that things will produce." His daily tasks included hand-sawing trees, pruning the raspberry bushes, mulching, moving fences and the grueling work of sealing a hole in a pond.
A summer of hard work culminated in a workshop called "Family, Food and Fun on the Farm." Michaels designed, advertised and hosted the educational event, which was focused on healthy and sustainable eating. The workshop proved a great success. Michaels led two sessions: one for children and their families, and another more science-based program for a group of incoming Hamilton College freshmen. Sessions began with a tour of the annual vegetable beds and the farm's Edible Forest Garden. Visitors harvested edible leaves, flowers, herbs, fruits and vegetables while learning about the environment, the wild and cultivated plants in the area, and the basics of permaculture. The harvest provided a light meal that was enjoyed during a brief presentation on how participants could grow their own food, make conscious dietary choices, and reduce their carbon footprint.
The six-week internship was made possible by the support of the Fink Career Fellowship at ESF, awarded to students committed to solving environmental challenges. Michaels expressed gratitude toward the ESF community as a whole and to Tyler Desmarais, a graduate student in plant science and biotechnology, in particular. Desmarais delivered Michaels to and from the farm, and, as his American Chestnut Restoration and Research Project supervisor, provided him with a letter of recommendation.
Next summer Michaels plans to apply for the Rosen Undergraduate Fellowship in the hope of working for Stewards of Irreplaceable Lands (SOIL), Canada's sustainable farm apprenticeship program. He is particularly interested in the Apprentice Enrichment Program, which allows apprentices and hosts from local farms to connect and learn from each other through hands-on workshops.
- By Kate Hill