SHARE:
ESF Alumnus Begins Peace Corps Service
Caleb Rudge to spend two years in Paraguay

9/22/2016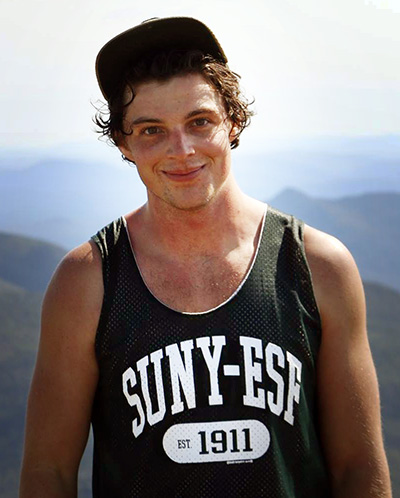 Caleb Rudge, a 2016 ESF graduate, will begin his Peace Corps service this month as he heads to Paraguay to begin training as an environmental development volunteer. Rudge will live and work in a community to spearhead local conservation efforts and build a sustainable environment.
"I desperately wanted an experience that would push me, not to be bored for a second behind a desk," said Rudge of his desire to join the Peace Corps. "I am hoping to learn a new language, become familiar with new food and work in an unstructured environment."
Rudge is the son of William and Patricia Rudge and a graduate of Onteora High School in Boiceville, New York. He graduated from ESF in May 2016 with a bachelor of science degree in environmental studies.
During the first three months of his service, Rudge will live with a host family in Paraguay to become fully immersed in the country's language and culture. After acquiring the necessary skills to assist his community, Rudge will be sworn into service and assigned to a community in Paraguay, where he will live and work for two years with the local people.
"I want to learn how to be resilient in the face of diversity, I want to become more independent and self-motivated, and I want to be able to fluently speak Spanish," Rudge said. "I can't wait to meet new people, people from a culture so far away and different from my own."
Rudge will work in cooperation with the local people and partner organizations on sustainable, community-based development projects that improve the lives of people in Paraguay and help Rudge develop leadership, technical and cross-cultural skills that will give him a competitive edge when he returns home. Peace Corps volunteers return from service as global citizens well-positioned for professional opportunities in today's global job market.
Rudge joins the 416 New York State residents currently serving in the Peace Corps and more than 13,527 New York State residents who have served in the Peace Corps since 1961.
Recent ESF News
News Archives
Communications & Marketing
SUNY-ESF
122 Bray Hall
1 Forestry Drive
Syracuse, NY 13210
315-470-6644