SHARE:
Travis Lecture Focuses on Restoring Giant in Galapagos
Dr. James Gibbs to discuss recovery of iconic species

9/22/2016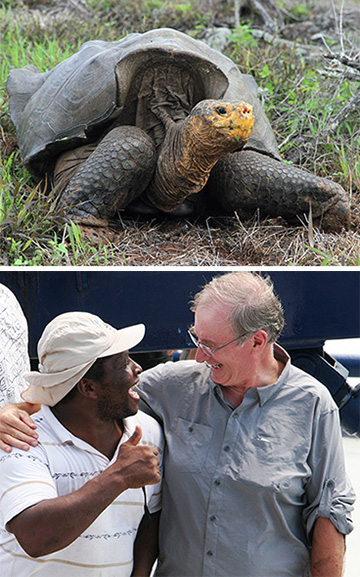 "Restoring the Giant Tortoise Dynasties of Galapagos" will be the topic of the Dale L. Travis Public Lecture Series 7:30 p.m., Tuesday, Oct. 18, at the Gateway Center on the SUNY College of Environmental Science and Forestry (ESF) campus.
ESF Professor James Gibbs will discuss his work on the tortoises of the Galapagos Islands. Gibbs, an internationally recognized scientist, has traveled to the Galapagos more than 45 times to collaborate with the Galapagos National Park to restore populations of giant tortoises and the important ecosystem services they provide.
Giant tortoises are among the most devastated of all Galapagos creatures but are now undergoing strong recovery thanks to concerted efforts by biologists and park managers. Gibbs will present a talk for the general public about the difficult but exciting work integrating science and management over two decades to restore these icons of a world famous biodiversity hotspot.
Gibbs, a professor of conservation biology and director of the Roosevelt Wild Life Station at the ESF, is an internationally recognized scholar, scientist, and author. Among his writings are The Amphibians and Reptiles of New York State, and The Fundamentals of Conservation Biology. Gibbs is also a member of the General Assembly of the Charles Darwin Foundation, recently served as "Wise Sage" for the Republic of Ecuador advising on conservation science in the Galapagos Islands and is vice chair of the Altai (Siberia) Assistance Project.
Gibbs' research activities have most recently focused on use of wildlife by indigenous people in Guyana, conservation of Tanzania's endemic amphibians, evolution and conservation of Galapagos tortoises and development of anti-poaching technologies for deployment in remote areas. His anti-poaching work in the Russian Altai centers on snow leopards and their equally endangered prey, argali sheep. At ESF, Gibbs teaches conservation biology and herpetology.
A reception will follow the lecture. Admission to the lecture and reception is free. Parking will be available on the ESF campus. Parking permits can be downloaded at the lecture website.
The event is sponsored by the Dale L. Travis Public Lecture Series at ESF.
Recent ESF News
News Archives
Communications & Marketing
SUNY-ESF
122 Bray Hall
1 Forestry Drive
Syracuse, NY 13210
315-470-6644