SHARE:
44 ESF Students Spend Summer as DEC Interns
'Phenomenal' range of work can help launch careers

10/3/2016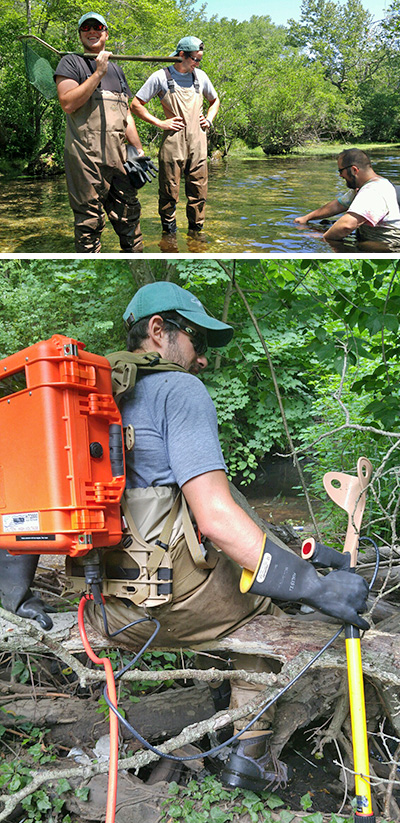 "I tell students to look at it as a very long job interview," said Dr. David Newman, describing the potential impact of summer internships with the New York state Department of Environmental Conservation (DEC).
This past summer, 44 ESF graduate and undergraduate students worked with the DEC's Division of Lands and Forests, said Newman, chair of the college's Department of Forest and Natural Resources Management (FNRM). Internships covered a variety of areas and projects ranging from doing urban forestry projects to running boundary lines, and helping with pest and disease work to serving as access site stewards on state waterways.
"The range of work has been phenomenal," said Newman.
The internship program pairs ESF undergraduates, graduate students and recent graduates with summer internships offered by the DEC. "These are well-paid internships," Newman noted.
Since the partnership began five years ago, approximately 150 students have gone through the program. "A number of them now have permanent positions with the DEC," said Newman.
One of this summer's participants was Jennifer Kotary, who began her DEC internship with the DEC Urban Forestry Program just two days after she graduated from ESF's Ranger School. Her internship research "involved in-depth exploration of what communities are doing to protect and build green infrastructure across the state," said Kotary, who graduated with an associate of applied science in environmental and natural resources conservation. She was able to show there is a statewide effort to expand the green infrastructure as well as numerous career and volunteer opportunities to become involved.
"Urban forestry has connected me to my passion," Kotary said. "My next endeavor is a temporary position as a DEC forest technician in forest health."
Andrew Sinchuk, who graduated the Ranger School in May and is now pursuing his bachelor of science at ESF, spent his weekends at Lake Ronkonkoma educating boaters about aquatic invasive species. During the week he did vegetation and fish surveys, pulled sein and fyke nets,, conducted clinics with I Fish New York, and did invasive species pulls.
"We worked on a couple of projects," he said. "One was locating native brook trout in small streams on Long Island to secure grant money, another was searching for an endangered species, banded sunfish, in Long Island's small ponds." A third project involved ensuring the alewife had a big enough culvert to migrate to Big Reed Pond in Montauk from Lake Montauk.
Following is a list of all ESF stuudents and alumni who participated in interships with the DEC this past summer (including student's name, hometown, academic program and graduation year; they are undergraduates unless otherwise noted):
Maren Alexander, Wilmette, Illinois, environmental resources management, 2016
Charlotte Atti, Canandaigua, New York, M.S. - environmental forest biology, 2017
Callee Baker, Warrensburg, New York, forest resources management, 2016
Paul Baker, Buskirk, New York, forest resources management, 2017
Jordan Bodway, Sylvan Beach, New York, environmental science, 2016
Allison Brady, Patchogue, New York, conservation biology, 2017
April Brun, Ballston Spa, New York, conservation biology, 2017
Katelinn Carrier, Syracuse, New York, natural resources management, 2016
Tess Clark, Syracuse, New York, MS, environmental studies, 2017
Makayla Comas, Brooklyn, New York, environmental studies - communications, 2017
Kelley Corbine, Canton, New York, M.S. - forestry, 2017
Taylor Della Rocco, Berne, New York, environmental science, 2016
Nicholas Dietschler, Lansing, NY, conservation biology, 2016
Nicolas Echevarria, Port Jervis, New York, environmental and natural resources conservation (Ranger School), 2016
Ava Ferreira, Oceanside, New York, forest technology (Ranger School), 2016
Megan Gorss, Greenfield Center, New York, environmental resources engineering, 2017
Donald Guest, Middleburgh, New York, natural resources management, 2016
Robert Gunther, Cobleskill, New York, natural resources management, 2016
Julia Hart, Rexford, New York, forest health, 2016
Nicholas Hodom, Delmar, New York, environmental science, 2016
Allison Holmes, Springwater, New York, environmental and natural resources conservation (Ranger School), 2016
Jennifer Kotary, Troy, New York, environmental and natural resources conservation (Ranger School), 2016
Wade Leung, Brooklyn, New York, wildlife science, 2016
Michael Loquet, Riverhead, New York, wildlife science, 2017
Alex McGraw, Victor, New York, forest ecosystem science, 2016
Emily Menendez, Bethlehem, Pennsylvania, environmental forest biology, 2016
Ashley Metz, Burnt Hills, New York, land surveying technology (Ranger School), 2016
Amanda Miller, Nesconset, New York, MS - environmental monitoring and modeling, 2017
David Nesbitt, Auburn, New York , MS - entomology, 2017
Samantha Oliveras, Baldwinsville, New York, natural resources management, 2015
Aaron Padden, Wellsville, New York, land surveying technology (Ranger School), 2016
Olivia Paetow, Palenville, New York, environmental science, 2017
Timothy Pietrzykowski, Churchville, New York, natural resources management, 2017
Morgan Purdy, Fishkill, New York, wildlife science, 2017
Nicholas Radford, Fairport, New York, conservation biology, 2016
Jane Raffaldi, West Hurley, New York, M.P.S. - conservation biology, 2017
James Reed, Cambridge, New York, wildlife science, 2017
Sundas Rehman, Suffern, New York, conservation biology, 2016
David Rhodes, Amherst, New York, forest technology (Ranger School), 2016
James Rittenhouse, Northport, New York, forest technology (Ranger School), 2016
Elizabeth Sammons, Burnt Hills, New York, environmental science, 2018
Andrew Sinchuk, Wantagh, New York, environmental and natural resources conservation (Ranger School), 2016
Stephen Slonosky, Elbridge, New York, forest health, 2016
Evan Sweeney, Brooklyn, New York, M.S. - forest and natural resources management, 2017
Recent ESF News
News Archives
Communications & Marketing
SUNY-ESF
122 Bray Hall
1 Forestry Drive
Syracuse, NY 13210
315-470-6644