SHARE:
ERE Major Tackles Wastewater Plan in Iceland
Fink Fellowship Supports Summer Abroad

10/3/2016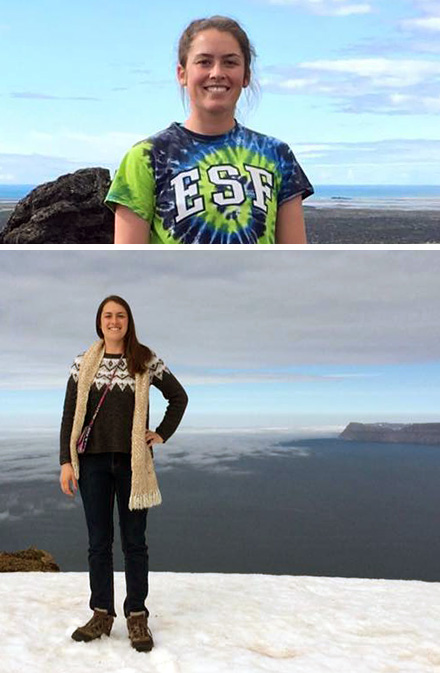 Maria Scicchitano dreamed of studying in Iceland, a country renowned for its use of renewable energy, but she didn't know how to turn that dream into a reality.
During her freshman year at ESF, Scicchitano decided to attend the study-abroad fair. There, she found the program she had been looking for: a summer abroad in Iceland with the School for International Training.
Scicchitano, a resident of Paxinos, Pennsylvania, who is now a senior environmental resources engineering major, received ESF's Fink Career Fellowship to assist in funding her trip abroad.
She spent June through August studying in Iceland. The first half of her trip took place in the rural town of Isafjordur, where she and another student lived with a host family, something she said was a highlight of her time abroad.
"Just having that cultural experience and exchange with them was really awesome," Scicchitano said.
While in Isafjordur, she took six credits at the University Centre of the Westfjords. Scicchitano took courses in renewable energy technology and resource economics and Icelandic language and culture. She said her ESF background gave her an advantage over the other students when it came to taking courses.
"It was helpful to have been exposed to things like writing a research paper and working in a lab," Schiccatano said.
Scicchitano also completed a three-credit research capstone project, where she worked with Isafjordur's town engineer. She said she was shocked to learn the town did not have any wastewater treatment and decided to do something about it.
She looked into the feasibility of a biodigester wastewater treatment plant, which would enable the town to extract methane from the wastewater and use it as a fuel source, a process that also leaves the water cleaner.
The town engineer provided her with the data necessary to form a base for her calculations. After completing her research, Scicchitano was able to present her results to community members. She recommended they install flowmeters, which would enable them to measure the flow rate of the wastewater and provide data they currently do not have.
If the community members decide to build a wastewater treatment plant, they can use the flowmeters to figure out how large a system to build. Otherwise, they would have to oversize the system, which would cost more money.
Although the town cannot afford to build a wastewater treatment plant right now, residents agreed that flowmeters were a good idea.
"It was exciting to me that they are actually thinking about starting that process," Scicchitano said.
During the second half of the summer, the program took place in the capital city of Reykjavik, where students stayed in a hostel and finished their studies at Reykjavik University. All nine of Scicchitano's credits transferred back to ESF, six of which counted toward her renewable energy minor.
While in Reykjavik, Scicchitano was able to tour the geothermal plant that powers the famous Blue Lagoon spa, visit small-scale hydropower plants, tour a geothermal plant that provides one-third of the country's electricity and even a take a "ghost tour" of an island.
Scicchitano said she was inspired by the depth of community involvement she observed in Iceland. She said she is trying to replicate this through the ESF Environmental Resources Engineering Club, of which she is the president.
The club is looking into starting a container garden on the SU Lawrinson Quad and getting involved with an invasive species removal project near Oakwood Cemetery.
"We're just trying to find anything we can do to make the campus a little bit better," she said.
Scicchitano said she plans to pursue a career that deals with the relationship between the environment and energy.
- By Taylor Watson, SU '19
Recent ESF News
News Archives
Communications & Marketing
SUNY-ESF
122 Bray Hall
1 Forestry Drive
Syracuse, NY 13210
315-470-6644