SHARE:
New Book By ESF Professors Released
Best practices for siting large-scale energy-producing facilities explored

10/25/2016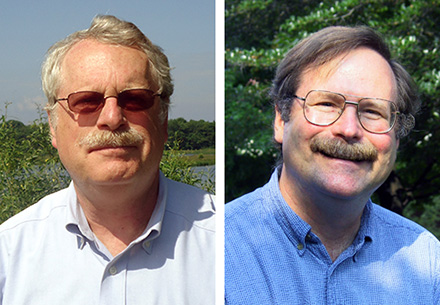 "Everyone wants renewable energy, but if it's large scale, no one wants it in their backyard," said Dr. Richard Smardon, Distinguished Service Professor Emeritus in the Department of Environmental Studies.
Smardon is one of five authors, along with Professor Emeritus James Palmer in the Department of Landscape Architecture, of The Renewable Energy Landscape, a book that explores the best practices for siting large-scale energy-producing facilities.
The Renewable Energy Landscape serves as a guide to conducting a proper visual impact assessment when siting renewable energy projects on the landscape. It deals with the issues of siting large-scale wind farms - both on shore and off shore - solar energy and geothermal energy projects. The book covers characteristics of new facilities and design mitigation and social interaction from start to finish.
"It's kind of amazing," Smardon said. "People say they want renewable energy but when it comes to sighting large-scale facilities in their backyard suddenly there are screams and objections."
Smardon points to the Cape Wind project that sought to build a 130-turbine wind farm in Nantucket Sound. The project caused a large amount of controversy, said Smardon, and ultimately did not get built.
The question, said Smardon, becomes "how do you develop methods for siting large-scale renewable energy that both protect the landscape and allows the project to be developed?"
There are steps that can be taken to make projects more aesthetically pleasing, he said. "Wind farms can change the array and how the turbines relate to each other, how they're placed," he said. "You might be able to change the scale of it and size and the color as well."
With solar projects, reduction of glare off the solar panels is an issue that can be addressed.
"The issue is to identify sensitive landscape areas where perhaps facilities shouldn't be sited," Smardon said.
The book addresses the issues involved when siting a large-scale renewable energy project including the siting guides that exist in many jurisdictions, the characteristics of the facilities themselves, how to assess the visual impact, how to simulate the facilities so people know what they look like, how to reduce the impact on the landscape, and how to engage the public and make them part of the process.
"It's important to involve people early on in the process and the decision-making process," he said.
Getting the pubic involved is also important to successfully siting a renewable energy project. "How do you get people involved so they're not surprised and it's not tokenism? In Europe some people are buying into the projects, so they're co-owners of the facilities. This has worked extremely well in certain European communities," he said.
Rural areas in the Tug Hill and Fenner, New York, where two wind farms are located serve as examples of good siting, noted Smardon. "If you look closely at Fenner, it's very hard to see (the wind farm) until you get right on top of the hill parallel to the wind farm. The same with Maple Ridge in Tug Hill." However a proposed wind farm in Cape Vincent, New York, did not go through as there was public pushback. A wind farm off Wolfe Island, Ontario, less than two miles across the St. Lawrence River was built. "The Canadians seem to like it," Smardon noted.
Recent ESF News
News Archives
Communications & Marketing
SUNY-ESF
122 Bray Hall
1 Forestry Drive
Syracuse, NY 13210
315-470-6644